Thursday, October 29, 2020
Tis the Season! Holiday Events in Bloomington
Categories: Indiana University, General, Family Fun, Events, Festivals
The holidays are indeed holly and jolly, but in Bloomington, they are anything but ordinary. As the temperatures fall (maybe some snow too), get into the spirit with holiday events, unique shopping, and plenty of delicious treats to share with your loved ones, big and small.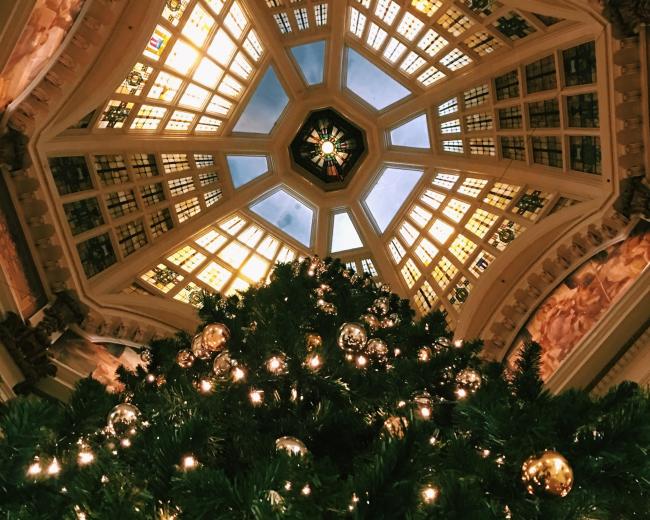 Virtual 2020 Fourth Street Festival of the Arts & Crafts: September 5 - December 31 | Virtual | Anytime
Purchase your Christmas gifts at the virtual 4th Street Festival!
Local Clay Potters' Guild Holiday Show & Sale: November 1 - November 30 | Virtual | Anytime
Find distinctive and expressive clay work at the 23rd annual pottery show and sale. 
Annual MCHC Holiday Sale: November 3 - January 15, 2021 | Monroe County History Center | 10:00 am - 4:00 pm
Find your new favorite decoration or the perfect gift for that special someone. 
Bloomington Handmade Market Virtual Holiday Fair: November 13 - November 15 | Virtual | 10:00 am - 4:00 pm
The Bloomington Handmade Market Virtual Holiday Fair will be a three-day online pop-up shop! 
Christmas Fair: November 14 | Monroe County Fairgrounds | Time TBA
Get all your Christmas shopping done in one place! There will be 100 Vendors with DS, crafts, food, & much more! Breakfast & Lunch will be available!
18th Annual Holiday Market: November 28 | Showers Common & City Hall | 9:00 am - 1:00 pm
Shop for locally grown farm products and arts & fine crafts created by local artisans.
Shop Small Business Saturday: November 28 | Downtown Bloomington | Times Vary by store
Shop Local. Shop Handmade. Shop Small.
Krampus Night & Bazaar: December 7 | Showers Common | Time TBA
Enjoy a festive, winter celebration featuring Alpine folklore beasts, a parade, and a festival.
Reindeer Reserve: December 12 | Wonderlab Museum | Time TBA
Meet live reindeer and a variety of arctic animals and celebrate the winter season! Learn about special adaptations that help these magnificent creatures survive and thrive in the icy north regions of the world.
Christmas with the Ponies: December 12 | People & Animal Learning Services | 1:00 pm - 5:00 pm 
We could all use a little holiday cheer! Check out Christmas with the Ponies. Masks and physical distancing are required. The entry fee is $5/person (2 and under are free). Your entry fee includes a photo with a horse. There will be free take-home activity kits for kids and cookies for sale. Horse rides and grooming sessions are available at an additional cost: you must sign up and pay in advance at givebutter.com/PALSsignup. 
Skate with Santa: December 12 | Frank Southern Ice Arena | 1:30 pm - 3:00 pm
Photo ops are available along with cookies and punch. Come dressed in your best ugly holiday sweater for a chance to win prizes!