Monasteries and monks that made their home in this college town
by Erica Sagon
This article was published in the 2016 Bloomington Visitors Guide. To request a free copy of the guide, click here. To see a PDF of this article, click here.
One of the best things about Bloomington is the diversity of people who come here, and the reasons why. It might surprise visitors to know that two of the largest Buddhist centers in the Midwest are right here in Bloomington. Tucked away in heavy woods that act as a buffer from the outside world, the spiritual centers are places where people can marvel or meditate, or both. These centers are part of the fabric that makes this community so colorful, and offer visitors a unique and unexpected experience.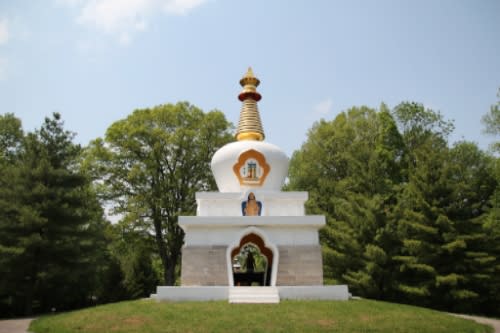 You don't have to be a practicing Buddhist to explore these quiet and sacred monasteries. Their brightly colored temples, altars with gilded Buddha statues, and peaceful grounds are open to the public. Both centers welcome visitors of all faiths who are looking for a cultural experience or simply a few tranquil moments.
The longstanding Tibetan Mongolian Buddhist Cultural Center is on the southeast side of Bloomington, and the newer Gaden KhachoeShing monastery is on Bloomington's north side. Both monasteries have four resident monks who chant and pray daily in the temples.
Both centers were established to preserve Buddhism in Western culture and both are rooted in the Yellow Hat sect of Tibetan Buddhism, but their practices veer from there - the two are not affiliated. Here's what to expect when visiting these Bloomington landmarks.
At the Tibetan Mongolian Buddhist Cultural Center, a winding drive seems to offer something new at every turn: monuments, the temple, a prayer-wheel pavilion, a pond with lotus flowers, and cottages for rent. Set back on a heavily wooded 108 acres - just 10 acres of which are developed - the center hosts individual visitors looking for meditation as well as large events, including a handful of visits from the Dalai Lama (he even has a private apartment at the Center for those visits).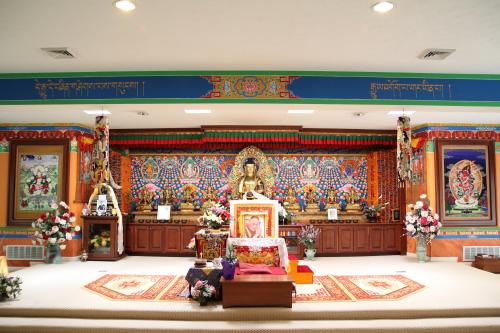 The Center was founded in the 1970s by the late Thubten Jigme Norbu, the eldest brother of the 14th Dalai Lama and a professor of Tibetan Studies at Indiana University. Today, the Center's director is Arjia Rinpoche, who fled Tibet and wrote a memoir about it called "Surviving the Dragon." Rinpoche was recognized as a reincarnate lama when he was two years old and he was tapped by the Dalai Lama to become the director in 2005.
The center promotes diversity and interfaith prayer, which is why a Bible and Koran are on display in the temple, says Chenli Reije, the Center's manager and nephew of the Center's director. Yoga, meditation classes, and Sunday morning prayer are some of the ways the Center engages the community.
Reije says he hopes that visitors enjoy seeing a different perspective at the Center.
"In Buddhism, one of the main teachings is not having attachment. Life is impermanent," Reije says. "[People] usually look for guidance from Buddhist teachings to break their rituals and look at the bigger picture. For visitors, we just want them to be able to see something different."
Past the temple, visitors will find a lotus pond, cottages nestled in the woods, and an outdoor teaching pavilion, which was used by the Dalai Lama on his visits to the Center. The renovated cottages resemble traditional Mongolian yurts but with the comforts of home. They have air conditioning and heating, electricity, plumbing, and kitchenettes, and go for around $100 a night. They're often rented out for spiritual retreats, but they also fill up on busy weekends in Bloomington as an alternative to a hotel, Reije says.
Also on the grounds are two tall, striking monuments known as stupas, whose simplified shapes are said to represent Buddha. There's also a structure that houses a prayer wheel - giving it a spin clockwise is the equivalent of saying hundreds of thousands of prayers at once. There's even a gift shop in the community building, which offers Tibetan items including necklaces, slippers, and books.
In addition to retreats and classes, the Center hosts celebrations for Buddha's birthday in the spring, the Dalai Lama's birthday in the summer, and the Tibetan new year in late winter or early spring.
Meanwhile, at Gaden KhachoeShing monastery, about seven miles north of downtown Bloomington, the temple features a grand, gilded 32-foot-tall statue, one of the largest anywhere outside of Tibet, says Jamyang Lama, a resident monk and co-founder of the monastery.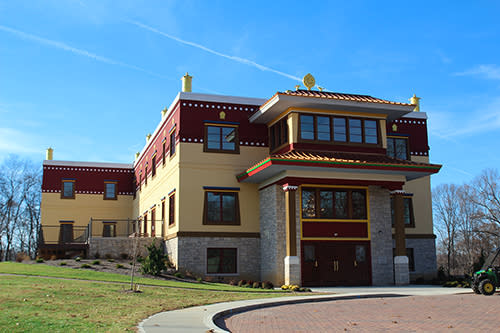 The temple may be new - it opened in fall 2014 - but the monastery was founded in Bloomington in 1996 in a different location. Set on 128 acres in the woods and at the end of an unpaved road, Gaden KhachoeShing feels remote. A clearing gives way to a large three-story building that houses the temple, living space for the monks, and a large dining hall and kitchen used for retreats and celebrations. Annual events include the Tibetan New Year and Taste of Tibet, a feast of traditional foods like momos (dumplings) and teas.
Many features of the temple were imported from Nepal, Lama says, including the ornate doorknobs on the entrance and the three gilded statues on the altar that represent past, present, and future Buddhas. The space is made incredibly vibrant by colorful tapestries and paintings, brightened with natural light.
The temple is used daily by the resident monks, but also for retreats, classes, and gatherings for visiting teachers from around the world. "Coming here is a spiritual destination," Jamyang Lama says. "It is a place where people can be contemplative and ultimately inspired to become a Buddha."
The center welcomes people of all faiths to talk with monks and students, or simply to practice silence, he says. "Some just want to come here to gain some peace in their mind," Lama says. "We are here for everyone."
The temple was built with eco-friendly features like LED lighting, low-flow faucets, and rainwater harvesting.
If You Go
Both centers welcome visitors of all faiths. Gaden KhachoeShing asks that visitors call ahead; the Tibetan Mongolian Buddhist Cultural Center is open daily, 10 a.m.-5 p.m., and large groups should call ahead.
A few pointers on etiquette at the temples: Take off your shoes and place them in the cubbies/racks provided before entering - shoes are removed to keep the spiritual space clean and to symbolically leave negative thoughts behind. Don't touch statues, tapestries, or paintings. It's absolutely okay to take pictures, talk with the monks, and ask questions.
"You don't have to be a Buddhist to come here and talk to one of our monks," says Reije, "We are everyday people."
Tibetan Mongolian Buddhist Cultural Center
3655 Snoddy Road
Bloomington, IN 47401
812-336-6807
Gaden KhachoeShing
2150 E. Dolan Road
Bloomington, IN 47408
812-334-3456