Cinema is big in Bloomington, with copious venues to view film
by Chris Lynch
This article was published in the 2016 Bloomington Visitors Guide. To request a free copy of the guide, click here. To see a PDF of this article, click here.Movies are an integral part of Bloomington's arts scene, and the arts are part of what makes Bloomington what it is. Sure, there are movieplexes where you can take in the hottest new releases. But the city is also home to unique venues and festivals that offer a more personalized experience that you won't find anywhere else.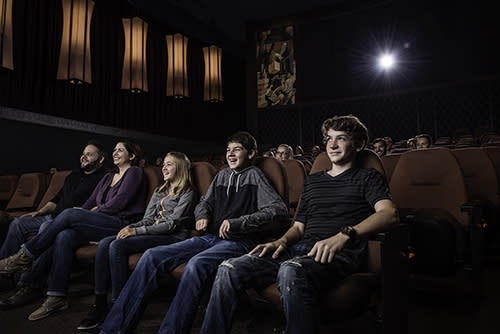 Photo by Maximillian Tortoriello Photography
IU Cinema
Having a top-notch research university in Bloomington adds an extraordinary dimension to the movie-going experience. The university created a new media school which combines traditional journalism with a variety of other types of communication forms, including filmmaking. The campus also refurbished an old theater to create one of the most beautiful cinemas in the Midwest. The IU Cinema hosts an open-to-the-public series of films each year in which they screen everything from historically significant films to Hollywood blockbusters, independent art movies, and contemporary international films. Associate Director Brittany Friesner says, "Being on the IU Bloomington campus affords us the ability to engage world-renowned scholars and filmmakers in our programming. Community members and students alike have the opportunity to experience unparalleled access to some of the greatest thinkers and artists in the world through attending one of our Jorgensen Guest Filmmaker Lectures or by participating in a post-film Q&A at IU Cinema."
IU Cinema coordinates about half of its films with academic departments, student groups, and community organizations, and 2016 will prove to have many interesting collaborations. Friesner says, "We are very excited in 2016 to support numerous international film festivals and conferences, including Intersectionality: IU Latina Film Festival and Conference, the Seventh Annual New Trends in Contemporary Italian Cinema, and several two-day conferences supporting the new Center for Documentary Research and Practice at the Media School at IU."
This year is also IU Cinema's fifth anniversary. Asked about special events that are in the works, Friesner singled out a personal favorite: "One of the highlights of this year will be the premiere of a new orchestral score commissioned from a student composer in the Jacobs School of Music for the 1916 film The Return of Draw Egan. The film will be screened with live musical accompaniment by a student orchestra as part of the inaugural Jon Vickers Film Scoring Award."
The IU Cinema will take a break in the summer of 2016 for renovations, but will be back in action by late August.
The Ryder
Of course, film was part of the Bloomington culture well before the IU Cinema opened, with the Ryder Film Series bringing international and independent films to the area for more than 25 years. The series features mainly first-run films from around the world. Series founder Peter LoPilato explains, "Many of these are low-budget films, at least by Hollywood standards. But what they lack in financing they more than make up for in creativity, enthusiasm and vision." This year the series will feature films from France, Germany, Russia, Mexico, Israel, Norway, and Afghanistan.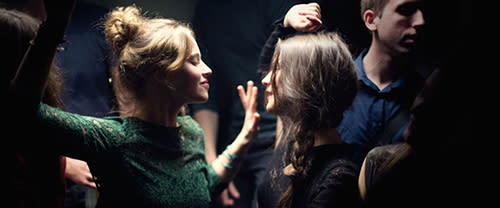 Breathe, from France, has won awards on the Festival Circuit and is being screened in The Ryder series in January.
The Ryder's screenings are held at different locations around town. Films are screened primarily in the two IU Fine Arts theaters and in the Woodburn Hall theater on the IU campus. They also screen films on Sunday nights at Bear's Place, and, on occasion, at the Buskirk-Chumley Theater.
Most of these locations are pretty conventional screening venues, but Bear's Place - a restaurant and bar - stands out. LoPilato started the series at Bear's, and he recalls that in the early days it was difficult to convince distributors that it was a viable venue. "When we first started programming foreign-language films, the distributors found it hard to believe that we were screening them in a bar. And in one or two cases, they were horrified at the very thought and initially would not work with us. They assumed that a bar audience would be inattentive, if not rowdy and out of control. Our audiences at Bear's Place were anything but. Bear's would sell more salads during movies than they would beer." Luckily distributors caught on, and Bear's continues to offer a one-of-a-kind movie-going experience.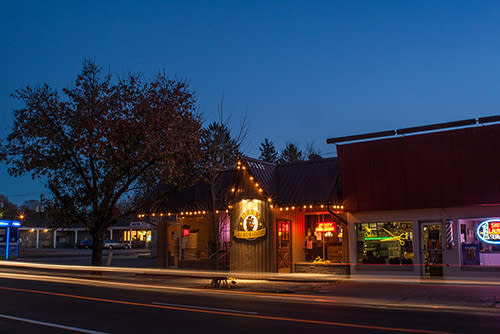 Sunday night film screenings are held at Bear's Place, a cozy bar near the IU campus.
PRIDE Film Festival
Since its founding in 2003, the PRIDE Film Festival has focused on presenting films that explore a variety of issues facing the queer community. According to director Sarah Perfetti, the event screens "films from all over the world that have queer characters and content, or are produced by queer filmmakers." The movies include feature-length films as well as shorts, and although "the top three genres preferred by our audience are comedies, dramas, and documentaries," Perfetti points out, "people also like animated and science fiction, so we throw a few of those in too."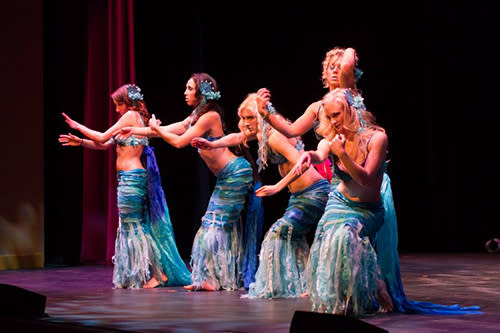 Unique live performances and other community projects have time to shine at the PRIDE Film Festival.
Photo by Zach Kowalczyk
The PRIDE Film Festival sponsors live performances, lectures, and other public participation events alongside its screenings. Perfetti says that these events "express a wide range of viewpoints, feature many different personality types and situations, and advocate community-wide attitudes of awareness, acceptance, and appreciation of diversity." This year's festival, which will be held from January 28-30, will include a screening of a film geared toward youth that will also have a participatory educational component about advocating for and supporting young members of the queer community.
Middle Coast
The Middle Coast Film Festival is a newer addition to Bloomington's movie scene. Having just completed its second season, festival director Jessica Levandoski is already looking forward to season three in July 2016. "The mission of the Middle Coast Film Festival is super simple," she says. "We want to create a destination international film festival right here in Bloomington that focuses on the interactive elements of the film industry. We want our filmmakers and our audiences to have access to one another in a laid-back environment. We have programming that rivals what is being screened on the coasts and in bigger cities."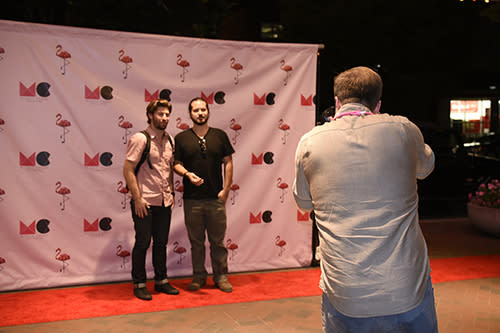 The Red Carpet Experience. Photo by Kylie Cisney
With the Middle Coast Film Festival, Levandoski doesn't want to just introduce Bloomington to great films; she also seeks to introduce great filmmakers to Bloomington. All of the filmmakers - whether they're just getting started or are headlining the event - are invited to introduce their films and participate in question-and-answer sessions with the audience. Levandoski says, "We bring in all the visiting filmmakers, actors, and producers and make sure they are shown a great time. In return, these filmmakers are enticed to shoot their next projects here in town, or spread the love to their colleagues."
From fine art films to Hollywood classics and everything in between, Bloomington offers some spectacular film viewing opportunities in unique theaters, including some places that aren't theaters at all. So settle in and enjoy the show.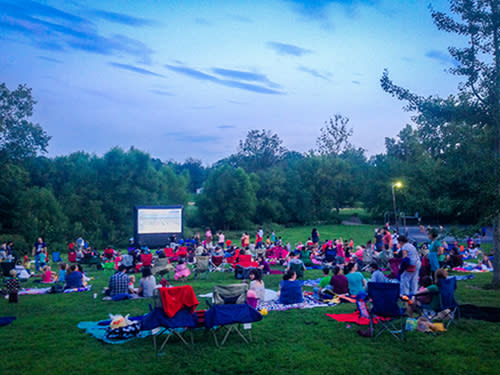 Movies in the Park. Photo by Greg Jacobs