A Nature Lover's Guide to Spring in Bloomington
By Phil Bloom
 
On the same rocky ridgetops and ravines that challenged pioneer settlers to scratch out a meager subsistence, a colorful tapestry emerges each spring with a burst of native wildflowers framed by flowering dogwood and redbud trees.

Wildflower Viewing
There's no better place to observe the annual woodland transformation than at the Charles C. Deam Wilderness Area, mere minutes from downtown Bloomington. Designated by Congress in 1982, the 13,000-acre site is the northern reach of the Hoosier National Forest that stretches in piecemeal fashion across nine counties from here to the Ohio River.
The centerpiece of the 200,000-acre federal forest, the Deam Wilderness is named for Indiana's first state forester, a self-taught botanist who stoked his curiosity by visiting every township in the state during the early 1900s. His collection of more than 78,000 plants is housed at the Indiana University Herbarium.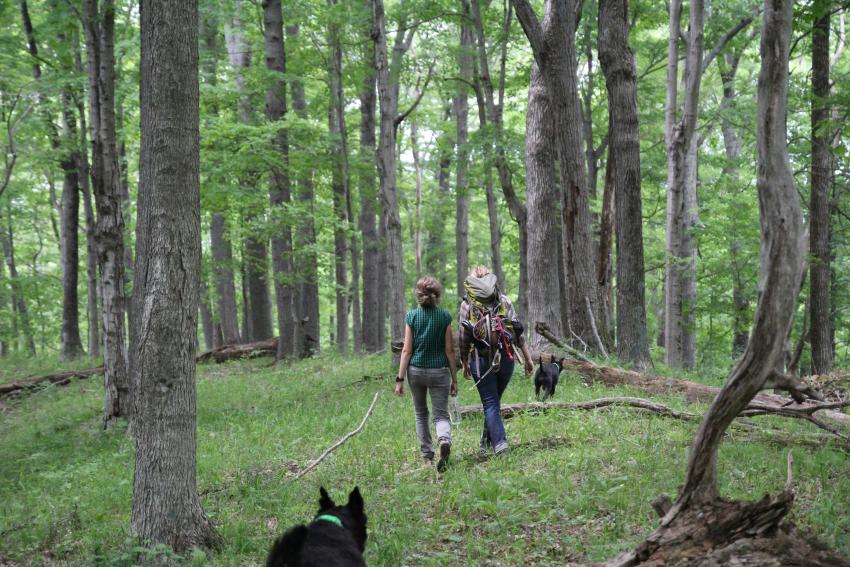 The aptly named Deam Wilderness has 37 miles of trails that put hikers in the right spot to see an array of spring wildflowers. Bloodroot, buttercup, dogtooth violet, Dutchman's breeches, hepatica, Jack-in-the-Pulpit, Jacob's ladder, spring beauty, trout lily, and various trillium are common.
An especially vibrant show of wild hyacinth, twinleaf, and other wildflowers grace a remote slope on the southern edge of the wilderness. Get there via Hunter Creek Road to a parking area at Mitchell Cemetery, but get there quick because the late-April display doesn't last long.
Looking for wildflowers is not the area's only springtime allure, and Deam Wilderness is by no means the only place to find them if wildflowers are your interest. Low Gap, Scout Ridge, and Sweedy Hollow Nature Preserves within Morgan-Monroe State Forest are wildflower havens off-limits to timber management that occurs elsewhere in the 25,000-acre state forest.
Did you know Indiana has more native wild orchids than Hawaii? And it's not even close at 42 to 3. One you should look for at Morgan-Monroe's Sweedy Hollow is the whorled Pogonia, but don't expect to see them in great number since it's on the federal list of threatened species.
Beanblossom Bottoms Nature Preserve is another place to see rare orchids. The 800-acre preserve west of Bloomington is owned and managed by the local Sycamore Land Trust. Although much smaller at 23 acres, The Nature Conservancy's Cedar Bluffs Nature Preserve features steep limestone bluffs that welcome colorful spring guests like nodding onion and hoary puccoon.
 
Mushroom Foraging
Picking wildflowers is a definite no-no, but there's another springtime arrival that you can collect in certain locations – morel mushrooms. The sponge-like fungus is a prized item for the dinner table. There's even a national day (May 17) set aside for mushroom hunting.
Although it's illegal to take anything from a state-dedicated nature preserve, morels are fair game in the rest of Morgan-Monroe State Forest. Recent rule changes by the Indiana Department of Natural Resources also allow foragers to leave designated trails in state forests in their pursuit of edible mushrooms, nuts, and berries. But don't expect morel hunters to share their favorite locations anymore than anglers will tell you where they like to fish. It's all hush-hush.
 
Fishing
Three reservoir lakes provide ample opportunity to cast a line for a variety of fish species. Griffy Lake and Lake Lemon, both north of Bloomington, were developed decades ago to provide a steady water supply to Bloomington. They've both transformed into outdoor destinations, with fishing near the top of the recreational list for both. Griffy Lake is experiencing a resurgence after undergoing a couple of restocking efforts in recent years. Lake Lemon is known for quality largemouth bass, even though bluegill are the most dominant species found there.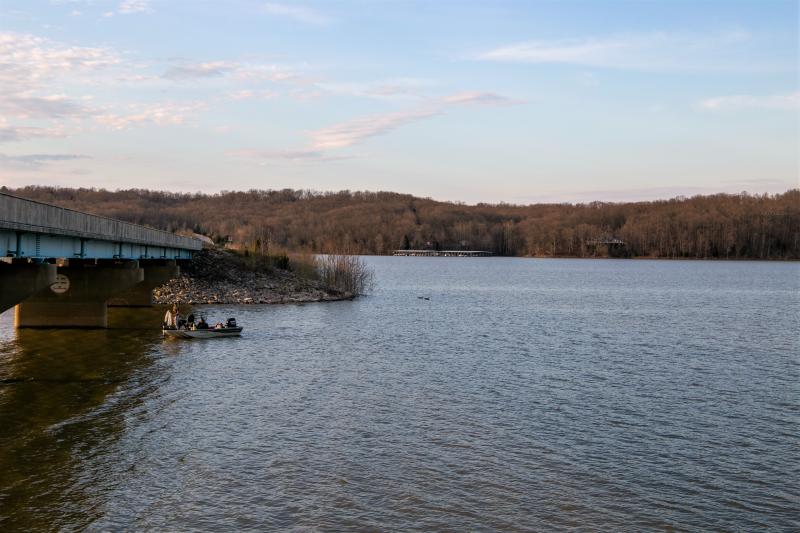 Monroe Lake, south of Bloomington, is Indiana's largest lake at nearly 11,000 acres. It's most often thought of for largemouth bass, but it's also a quality lake for catfish, crappie, hybrid striped bass (wipers), and walleye. Two private marinas and nine public access boat ramps make it easy to get on the water. Fourwinds Lakeside Inn & Marina is located in Fairfax State Recreation Area on the west side of the lake, and Lake Monroe Boat Rental is located in Paynetown State Recreation Area on the north side. Both rent dock space and a variety of watercraft.
 
Camping & More
Paynetown also is the hub of DNR outdoor programming. The activity center schedules year-round events that include campfire cooking and nature photography workshops, pioneer cemetery tours, bird & bug programs, astronomy, and guided hikes of all types.
If camping is your thing, Paynetown has more than 300 sites, and nearby Hardin Ridge Recreation Area has 200 more. Hardin Ridge is a 1,200-acre complex managed by the Hoosier National Forest.