Bloomington's Best Breakfast Spots
Categories: Wine & Culinary
Brunch is all the rage these days, but there's something extra special about starting your day bright & early with a delicious morning meal at one of B-Town's best breakfast joints — and lets not glaze over the fact that it's available every day of the week, not just on the weekends! Whether you're looking for grab-and-go options or a place to leisurely sip on a cup of coffee as you enjoy a hot plate of morning goodness, the following restaurants, cafes, and bakeries should do the trick.
 
Bedrak Cafe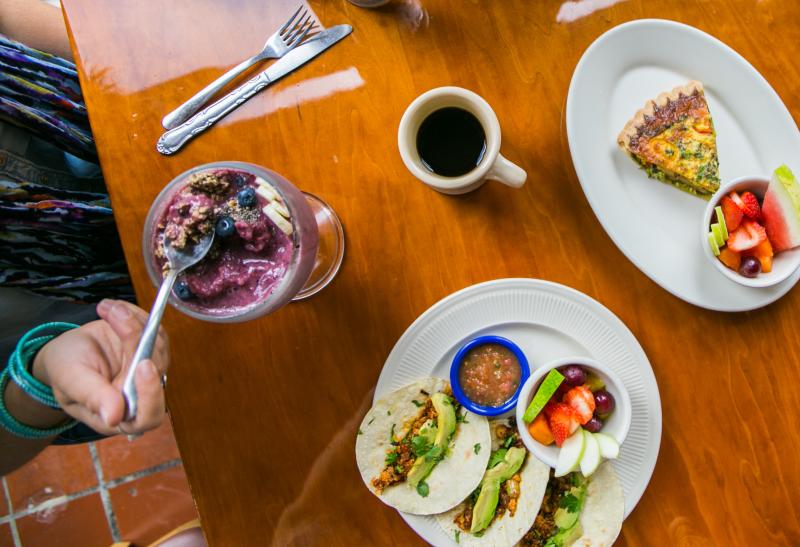 Bedrak Cafe is known as a popular brunch spot, but they're open during breakfast hours as well. Their plates are elevated renditions of beloved classics, often implementing a Hispanic flavor twist — for example, Bedrak's Biscuits & Gravy feature a mildly-spiced chorizo gravy rather than your standard American-style sausage gravy. If you're in the mood for a more typical breakfast dish, have no fear. The restaurant offers a delicious Crab Cake Benedict, Breakfast Sandwich, Belgian Waffle, and much more — including fresh smoothie bowls.
 
Bloomington Bagel Company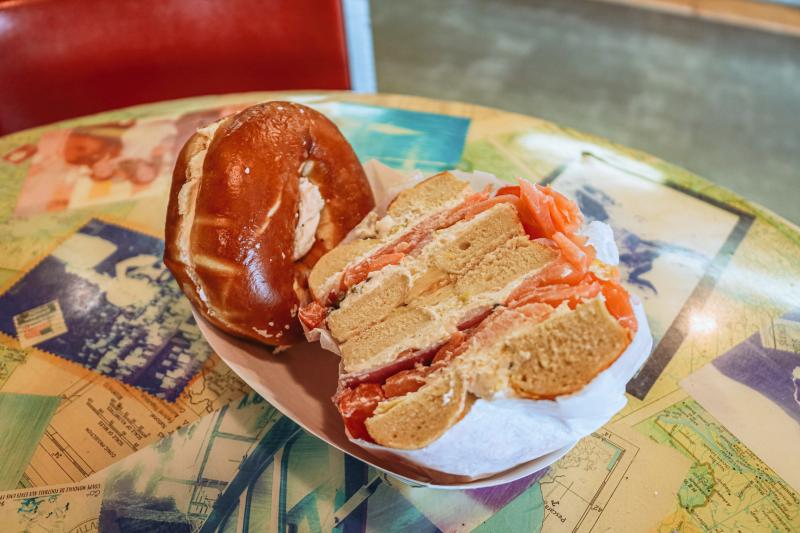 The authority on bagels in B-Town, Bloomington Bagel Company is a popular breakfast spot among Indiana University students and locals. Opt for your choice of over 10 bagel flavors, along with your choice of over 10 "schmears" (cream cheese spreads), or get a little fancy with one of their signature bagel sandwiches — the Hangover, Hot Mess, and Lotsa Lox all come highly recommended.
 
B-Town Diner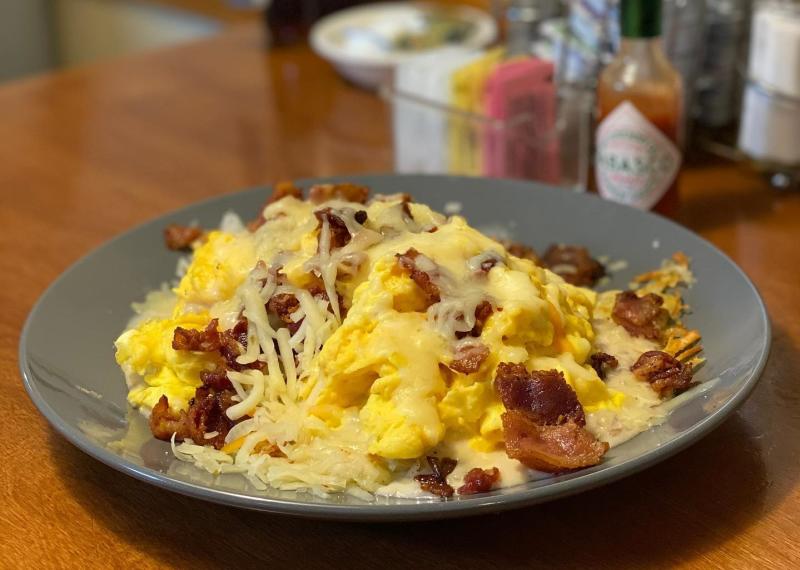 Photo by @thegutfilling on Instagram
B-Town Diner is one of those incredible hole-in-the-wall establishments that serves a mean breakfast all day long. While they offer your typical diner breakfast plates, they also step outside the box a bit with their Zucchini Potato Pancakes and Vegan Hippy Hash, for example. Whether you want to keep it simple with a breakfast combo or get a little funky in the A.M., B-Town Diner has something on the menu to satisfy every stomach.
 
Cloverleaf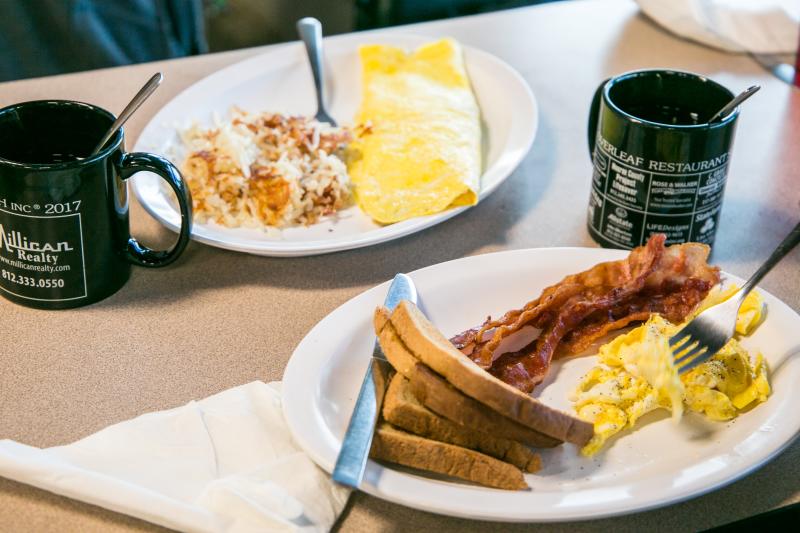 Voted Bloomington's Best Breakfast establishment by locals in 2020, Cloverleaf specializes in homestyle comfort food, and a lot of it. Their menu is huge, offering everything from Country Fried Steak and French Toast to a Mexican Omelet and Breakfast Casserole. The no-frills diner focuses all of its attention on the flavor & quality of its meals and keeps people coming back for more because of it.
 
Cozy Table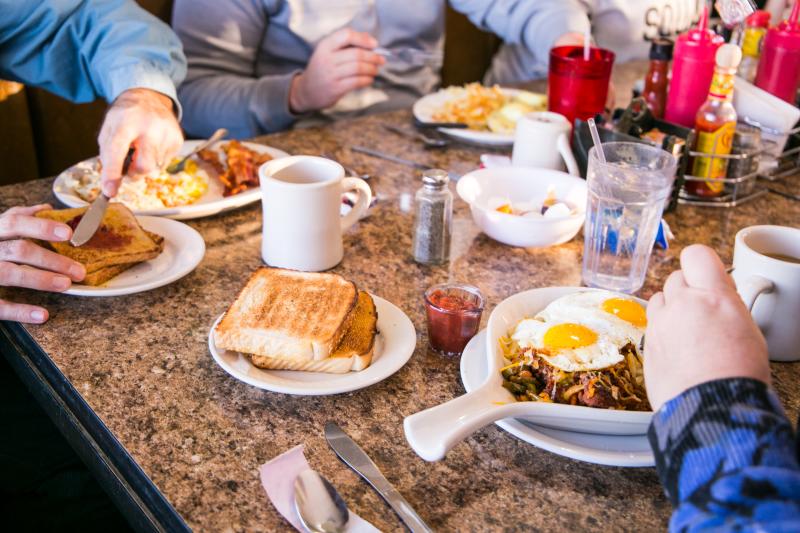 Another beloved diner-style breakfast joint is Cozy Table. With a seemingly never-ending menu full of a ton of variations of each type of meal — nine types of pancakes, 11 skillets, 18 different omelets, and so on — there is seriously something for everyone to enjoy, even the pickiest of eaters. If you're looking for a homestyle meal made fresh to-order, Cozy Table is a great choice.
Hopscotch Coffee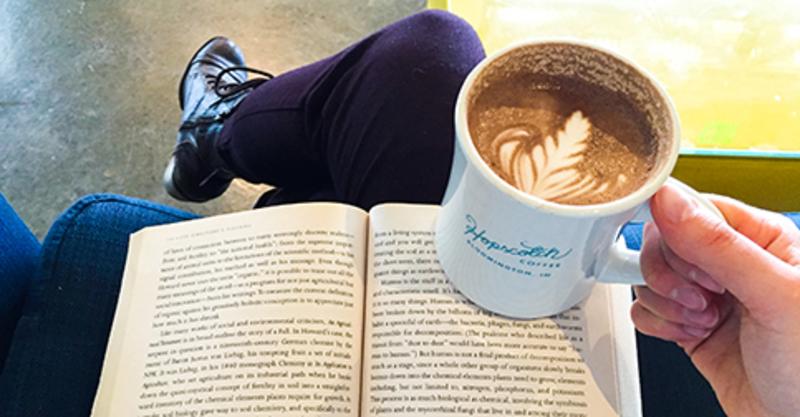 Hopscotch Coffee has great plates, sandwiches, and spreads for a classic breakfast. Try their delicious Omnivore dish with white toast, fried egg, house sausage patty, avocado, sharp cheddar, and organic mayo, or their Toast-a-Guac with white toast, Schug, avocado, orange, tajin, and microgreens. 
The Inkwell Bakery & Cafe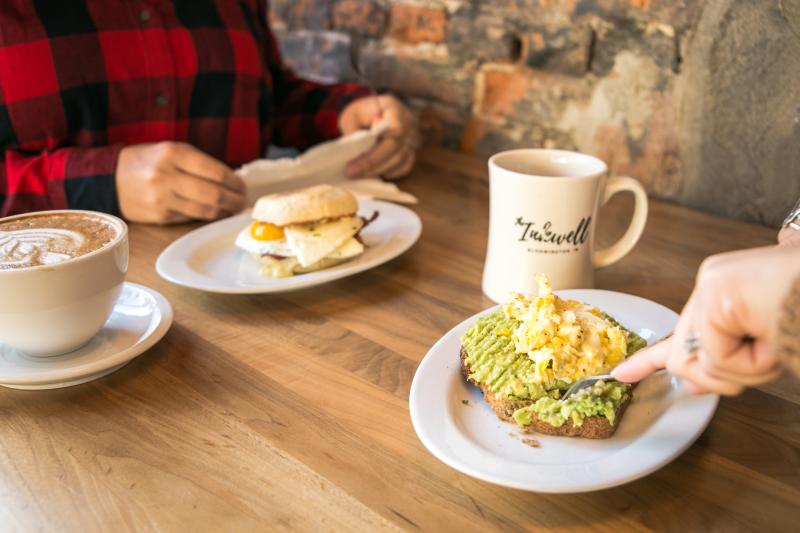 If you're looking to start your day with a freshly brewed cup of locally-sourced coffee and an artisan-style breakfast plate, The Inkwell is one of the best places to do so. Serving drip coffee and espresso beverages with Hopscotch Coffee's bean blends, as well as a unique assortment of dishes — Loaded Avocado Toast, a Broken Yolk Sandwich, and a Granola Parfait being just a few — The Inkwell perfectly channels Bloomington's eclectic, artsy vibe through their food. We'd be remiss not to mention their house-made poptarts as well — they put Kellogg's to shame, tenfold.
 
The Runcible Spoon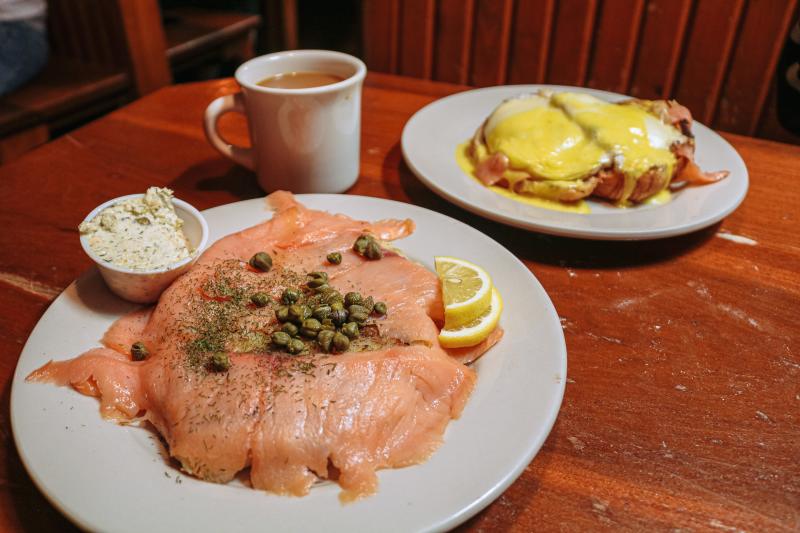 One of the most beloved breakfast joints in town, The Runcible Spoon serves a quirky menu of classics and unique dishes in an equally-as-quirky house just a block from the Indiana University campus. Served all day every day, choices include the usual suspects — omelets, French toast, pancakes, biscuits & gravy — and some not-so-usual creations, such as the Smoked Salmon & Croissant Bennie and Cold Smoked Salmon Hash. The Spoon also brews their own blends of coffee and espresso, as they've been doing since they originally opened as a roastery in 1976.

 
Uptown Cafe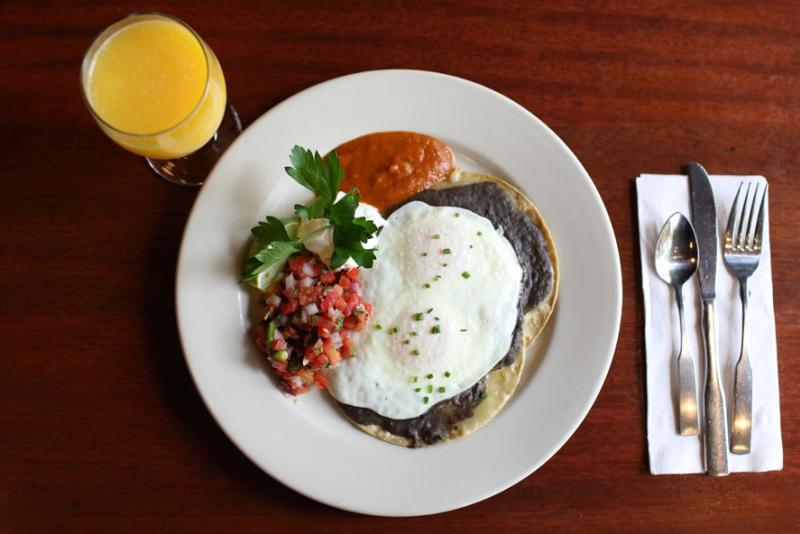 Uptown Cafe serves breakfast, lunch, dinner, and weekend brunch, and they do it all shockingly well. Every meal features New Orleans-inspired plates packed with Cajun & Creole flavors, and breakfast is no exception. With savory choices like Chorizo & Eggs, Cheddar Jalapeno Grits, and an Andouille Omelet, as well as sweet plates including Creme Brulee French Toast and Cornmeal Pancakes, there's an incredible meal on the menu to satisfy every breakfast craving. Don't forget to order a drink from the restaurant's espresso bar — make it an Espresso Martini if you're of-age.
 
The Village Deli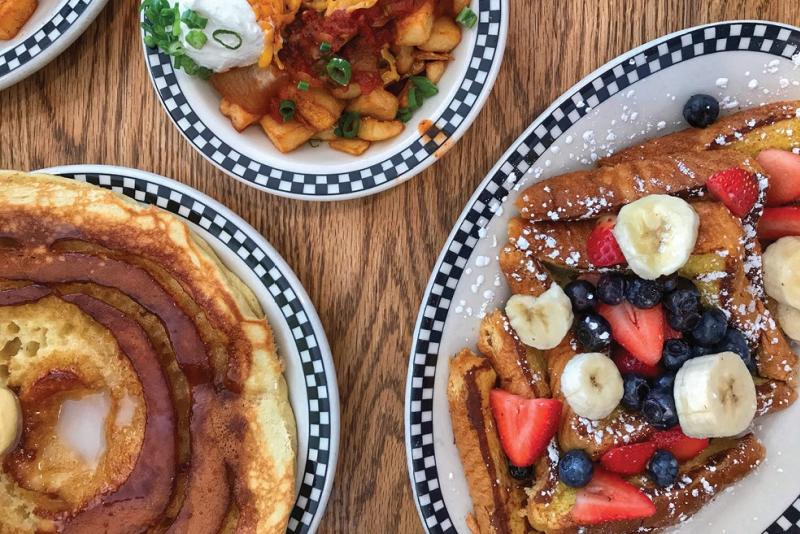 Famous for their Paxton's Potatoes and pancakes bigger than the plate they sit on, The Village Deli is beloved by townies, students, and visitors alike. Serving a long menu of omelets, scrambles, combo platters, breakfast sandwiches, benedicts, and the sweet breakfast Holy Trinity of pancakes, waffles & French toast, there's a delicious plate for every patron at this Kirkwood Avenue mainstay. Wash down your Breakfast on a Croissant with a fresh-squeezed glass of orange juice, or order a cup of coffee to compliment your plate-sized Cinnamon Roll Pancakes — breakfast has never sounded so good.
 
Looking for more of Bloomington's best food? Check out these blogs: