How to Spend a Day on Kirkwood Avenue
Categories: Shopping, Wine & Culinary, Arts & Culture
Disclaimer: Due to the ongoing COVID-19 pandemic, we realize some visitors may not currently feel comfortable dining inside restaurants. In the meantime, please support your favorite local restaurants with carryout or delivery instead! Be prepared to wear face coverings, practice physical distancing, and call ahead as hours of operation may be different than posted. Above all, thank you for supporting Bloomington's restaurants and shops.
Kirkwood Avenue is the most iconic street in Bloomington. Bold statement, we know, but considering its lineup of legendary bars & restaurants and entrance into Indiana University's campus through the famous Sample Gates, it simply can't be denied. Kirkwood is a popular destination for students, photographers, alumni, families, and visitors alike. Chock-full of shops, eateries, bars, and picture-perfect views, it's incredibly easy to spend an entire day on the avenue — which is exactly what we're suggesting!
 
Shop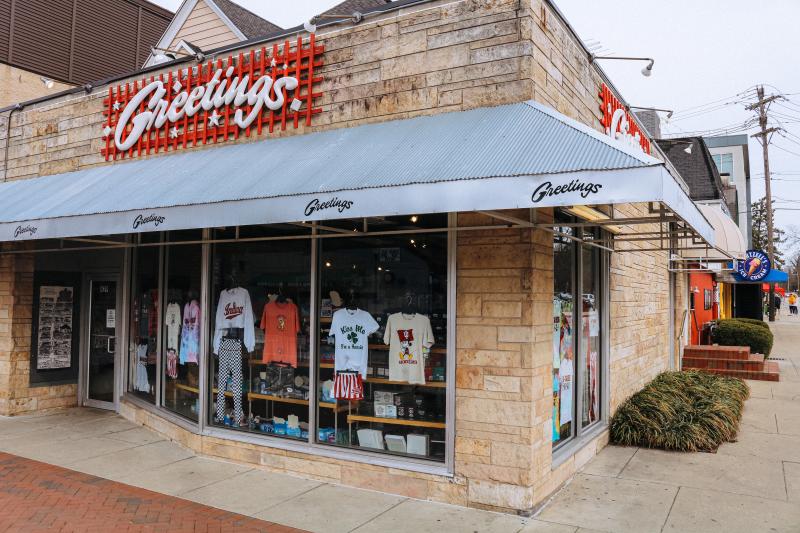 From boutiques to IU swag to specialty stores, there's a variety of (mostly) small businesses to shop while you explore Kirkwood.
Fashion-forward // The fashion lover will find heaven-on-earth in Pitaya, a chic and trendy boutique that carries women's clothing and accessories. There's also a two-story Urban Outfitters near Sample Gates for those seeking big-city fashion in our small town.
 
Cream & Crimson // Those in the market for some new IU gear will have a blast perusing Tracks, The Indiana Shop, Greetings, Indiana Varsity Shop, and Underground Printing. Tracks is not only known for their original Hoosier merch, but also for their extensive CD and vinyl record collection. For classic IU apparel & memorabilia, check out The Indiana Shop. The Hoosier sports fan should pop into Indiana Varsity Shop, the official store of IU Athletics. If you're searching for unique tees and other IU- and Bloomington-related clothing, Greetings and Underground Printing should be your go-tos.
 
Specialty finds // Book enthusiasts will love Book Corner, a family-owned, independent book store that carries best sellers, classics, children's books, unique gifts, and more. Passionate cyclists should definitely check out Bicycle Garage, Inc., a full-service bicycle store & repair shop that also offers bike rentals. Those with an interest in handmade jewelry, exotic rocks, and crystals could spend hours poring over the selection of items at Moon Stones. 
 
Dine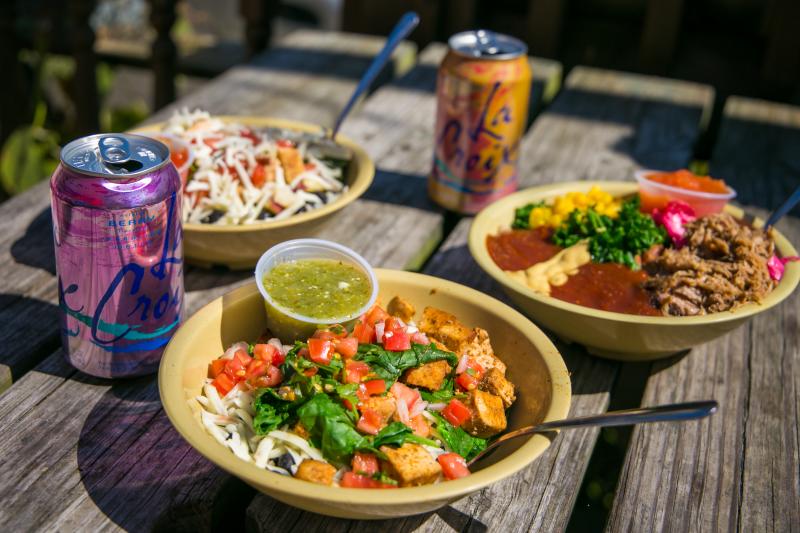 Where are our foodies? You're going to want to visit B-Town as many times as it takes you to try every restaurant on Kirkwood — they're all that good.
If you're a fan of outdoor dining, we have good news for you. In an effort to make the Kirkwood dining experience as safe and comfortable as possible, the City of Bloomington is reintroducing pedestrian-only spaces on three blocks of Kirkwood Avenue from March 25 through June 30. The timeline is tentative and could be updated due to changes in the status of the COVID-19 pandemic.

See the Sights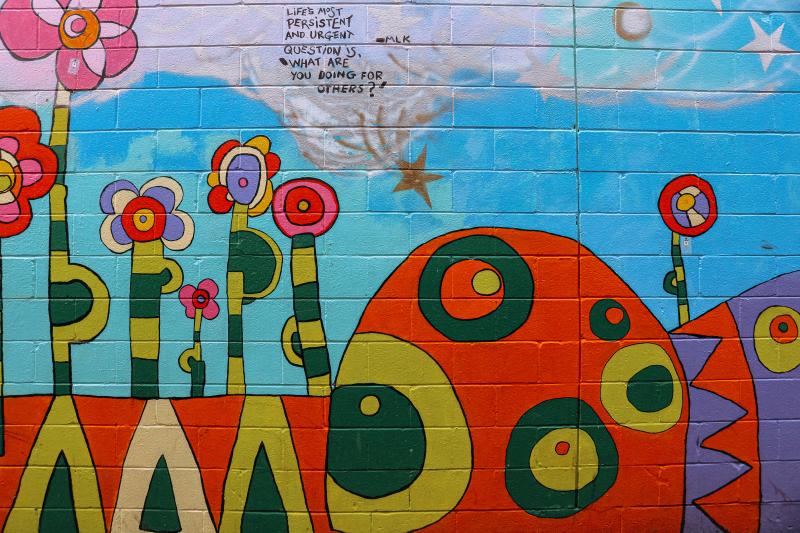 Kirkwood also offers a handful of sights to see, each perfect for snapping a photo to post on the 'Gram or to fondly remember your time in B-Town. If you do share a photo on Instagram, be sure to tag us and use #visitbtown! 
Street art // Kirkwood is home to three murals: the People's Park mural located on the side of Bicycle Garage, Inc., the Graduate hotel mural, and the Village Deli mural located in the alley between Tracks and Village Deli. They all make for the perfect photo backdrop, so snap a pic of yourself and your squad in front of all three!
 
Iconic landmarks // Sample Gates and the Buskirk-Chumley Theater are the must-see, legendary landmarks on Kirkwood Avenue. The Sample Gates, built in 1987, serve as the gateway between the IU and Bloomington communities. Located at the top of Kirkwood, the Gates look onto the street's iconic venues and at the Courthouse in the distance on The Square. It's the number one photo destination on campus — a beloved location for capturing photos of visitors, graduates, newlyweds, little Hoosiers, furry friends, and more. On the opposite end of Kirkwood stands the Buskirk-Chumley Theater. Originally built in 1922 as a silent-movie house, the theater has since been beautifully restored and now serves as a venue for local festivals & plays, as well as national acts including Bloomington's own John Mellencamp. 
 
Drink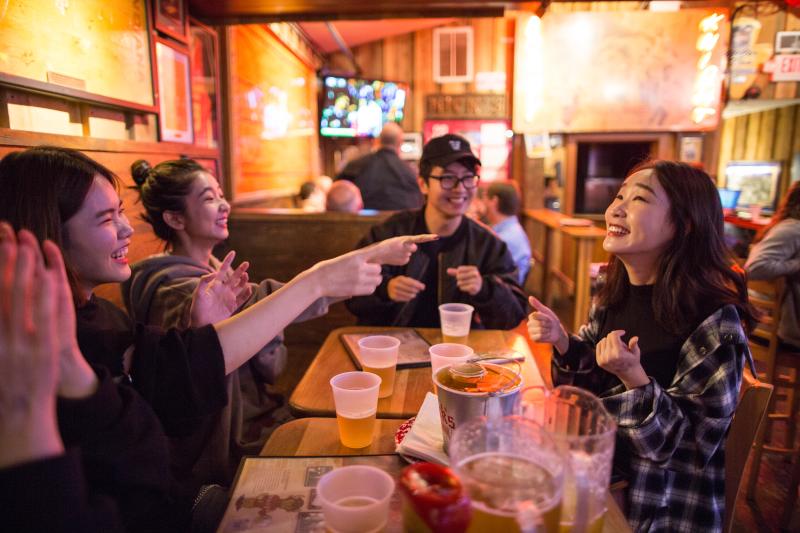 Whether you're looking for a latte to put some pep in your step, an organic juice to meet you fruits & veggies goal for the day, or a Long Island iced tea to start your night with, Kirkwood has a few local cafes and bars that will satisfy your thirst.
Cafe cohort // The caffeine-addicted and juice-obsessed will love Soma Coffee House & Juice Bar. The quirky-cool Bloomington cafe chain offers classic & unique coffee beverages, fresh smoothies & juices, a wide range of hot & iced teas, and a variety of fresh-baked pastries for those who like to have something to munch on while enjoying their brew of choice.
 
Night on the town // Want to hit a local bar to wrap up your day on Kirkwood? Kilroy's on Kirkwood, The Upstairs Pub, and Nick's are well-loved nightlife venues on the avenue. Kilroy's is one of the most legendary bars in Bloomington, as it's a rite of passage for all IU students to day-drink on their back patio on game days and party into the night on any other occasion. If you're looking for a more relaxed setting, The Upstairs Pub has a second-story patio that offers a great view of Kirkwood from above, and they also have darts & pool available for play. If you want to catch a sports game or play a round of Sink the Biz with your crew, Nick's is the place for you. 

 
Stay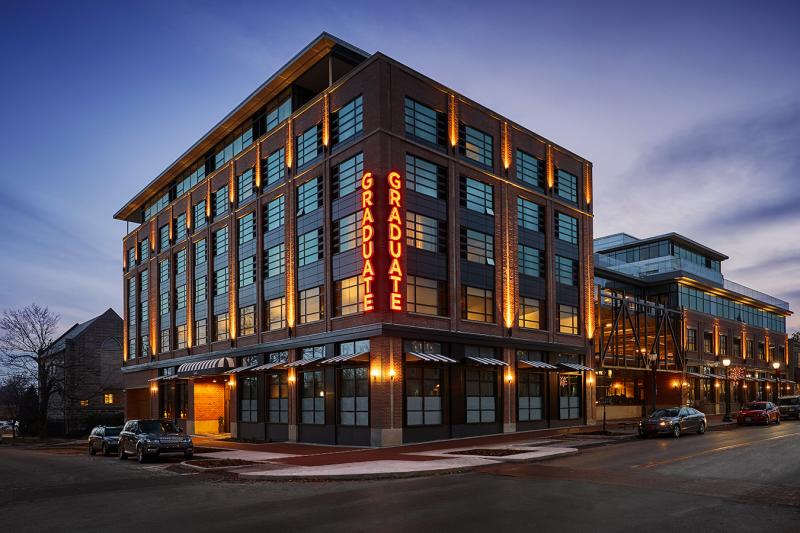 Planning to have a late night on Kirkwood? Or, perhaps you simply won't be ready to part with the iconic street by the end of one day. If you want to extend your stay on Kirkwood for any reason, check in at the Graduate hotel. A wonderfully unique place to stay, the Graduate's concept is to celebrate the youthful spirit and nostalgia of the college days, nodding to the history and heritage of Indiana University in our beloved B-Town. In addition to its charming decor and IU memorabilia, the hotel also offers complementary bike rentals, a roof-top terrace, and an in-house diner.
Looking for more to do while downtown? Check out How to Spend a Day on The Square.