How to Spend a Day on Kirkwood Avenue
Categories: Shopping, Wine & Culinary, Arts & Culture
Kirkwood Avenue is the most iconic street in Bloomington. Bold statement, we know, but considering its lineup of legendary bars & restaurants and entrance into Indiana University's campus through the famous Sample Gates, it simply can't be denied. Kirkwood is a popular destination for students, photographers, alumni, families, and visitors alike. Chock-full of shops, eateries, bars, and picture-perfect views, it's incredibly easy to spend an entire day on the avenue — which is exactly what we're suggesting!
 
Shop
From boutiques to IU swag to specialty stores, there's a variety of (mostly) small businesses to shop while you explore Kirkwood.
Clothing & Accessories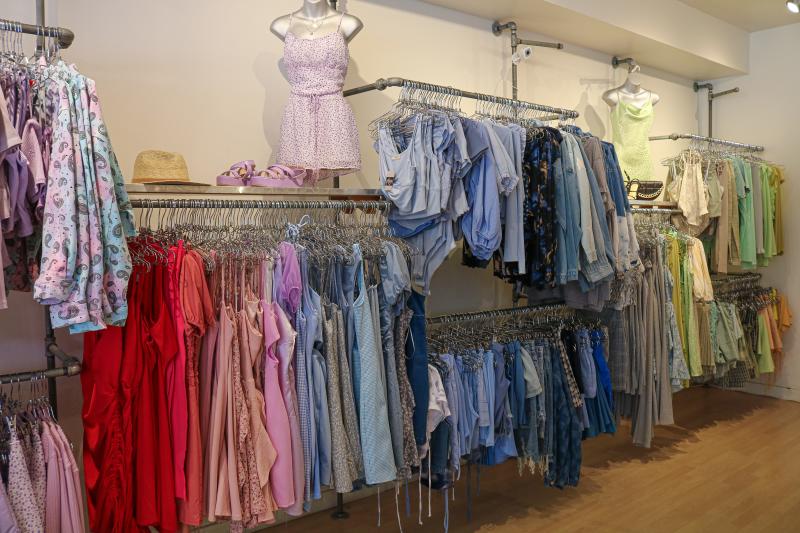 Pitaya
The fashion lover will find heaven-on-earth in Pitaya, a chic and trendy boutique that carries women's clothing and accessories.
Urban Outfitters
There's a two-story Urban Outfitters near Sample Gates for those seeking big-city fashion in our small town. In addition to clothing and accessories, the store also carries a small selection of home goods items.
 
Cream & Crimson Gear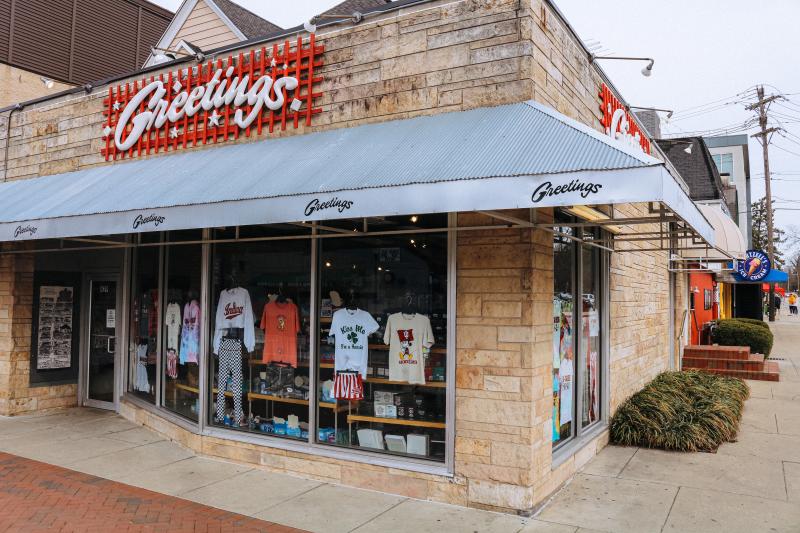 Greetings
Greetings offers unique IU-themed apparel, quirky gifts, home decor, car accessories, and more. Whether you're looking to buy an assortment of items or you're only after some new IU clothing, their selection should satisfy all of your IU shopping needs.
The Indiana Shop
The Indiana Shop is known as the ultimate Indiana University fan shop. The store offers an abundance of IU apparel, home decor, alumni merch, special event gear, and more. While you're browsing the other IU shops on Kirkwood, definitely pop into this one.
Indiana Varsity Shop
​The IU Varsity Shop is the official store of IU Athletics, and as such, they offer a variety of IU sports-themed apparel, including the famous candy-striped pants, as well as a wide range of gifts & accessories, including branded sports gear, tailgate accessories, and home decor.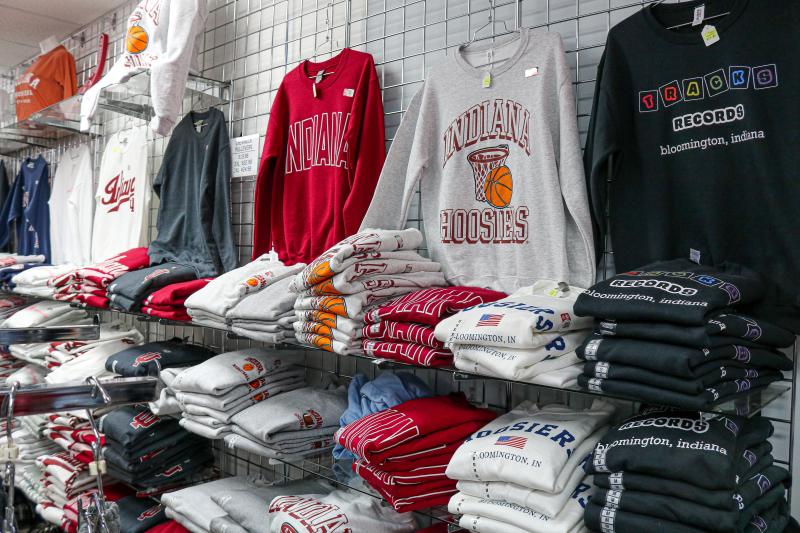 Tracks
If you're looking for unique IU apparel, Tracks is your place. The clothing and music store offers a wide range of t-shirts, tank tops, sweatshirts, hoodies, and much more, most of which is uniquely designed and only available at the Kirkwood store. 
Underground Printing
Underground Printing carries a wide range of apparel featuring screen-printed designs. They also allow customers to create their own custom t-shirts, hats, sweatshirts, and more. 
 
Entertainment & Recreation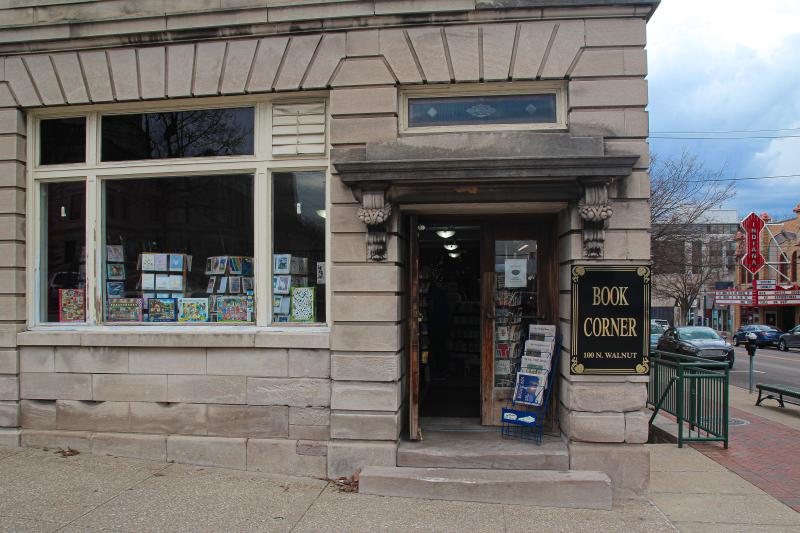 Book Corner
Book enthusiasts will love Book Corner, a family-owned, independent book store that carries best sellers, classics, children's books, unique gifts, and more.
Bicycle Garage, Inc.
Passionate cyclists should definitely check out Bicycle Garage, Inc., a full-service bicycle store & repair shop that also offers bike rentals.
Moon Stones
Those with an interest in handmade jewelry, exotic rocks, and crystals could spend hours poring over the selection of items at Moon Stones. 
 
Art, Culture, and Entertainment
Kirkwood also offers a handful of sights to see, each perfect for snapping a photo to post on the 'Gram or to fondly remember your time in B-Town. If you do share a photo on Instagram, be sure to tag us and use #visitbtown!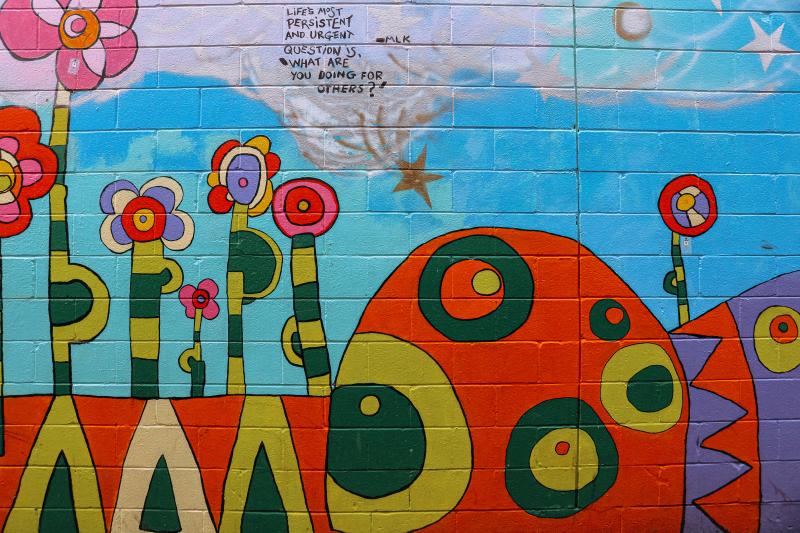 Murals
Kirkwood is home to three murals: the People's Park mural located on the side of Bicycle Garage, Inc., the Graduate hotel mural, and the Village Deli mural located in the alley between Tracks and Village Deli. They all make for the perfect photo backdrop, so snap a pic of yourself and your squad in front of all three!
Sample Gates
The Sample Gates, built in 1987, serve as the gateway between the IU and Bloomington communities. Located at the top of Kirkwood, the Gates look onto the street's iconic venues and at the Courthouse in the distance on The Square. It's the number one photo destination on campus — a beloved location for capturing photos of visitors, graduates, newlyweds, little Hoosiers, furry friends, and more.
Buskirk-Chumley Theater
On the opposite end of Kirkwood stands the Buskirk-Chumley Theater. Originally built in 1922 as a silent-movie house, the theater has since been beautifully restored and now serves as a venue for local festivals & plays, as well as national acts including Bloomington's own John Mellencamp. 
 
Dine & Drink
Where are our foodies? You're going to want to visit B-Town as many times as it takes you to try every restaurant on Kirkwood — they're all that good.
 
International Flavors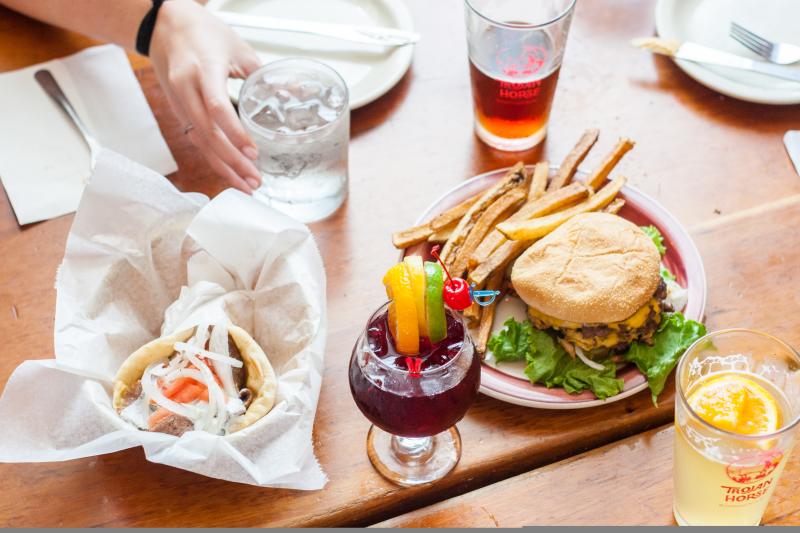 Lotus Garden
If you're hankering for Chinese food, try Lotus Garden. The restaurant offers a huge selection of authentic plates, including Szechuan beef noodles, Kung Pao shrimp, chicken fried rice, and much more.
Trojan Horse
In the mood for a Mediterranean meal? Trojan Horse offers gyros, falafel, pita melts, and more. Don't leave without trying their baklava ice cream — it's one of the best in town.
Z & C Teriyaki & Sushi
Searching for teriyaki and sushi? Z & C Teriyaki & Sushi serves both, counter-service style. It's a local favorite for a late-night bite after hitting the bars.
 
American Grub
Cafe Pizzaria
Craving some 'za? Order a pie from Cafe Pizzaria, a Bloomington staple since 1953.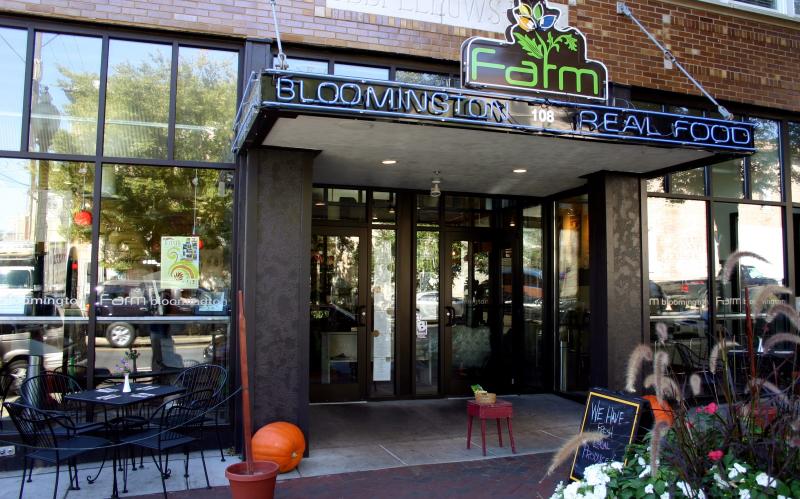 FARMbloomington
FARM is known for their seasonal farm-to-table-style dishes that infuse local food with global flavors. If you and your crew are seeking a more upscale dinner, FARM is a great choice.
Fat Dan's Chicago-Style Deli
Want a Chicago-style hotdog, an enormous burger, or a deli sandwich? Fat Dan's Chicago-Style Deli is your place.
Lennie's
People flock to Lennie's for their huge strombolis, gourmet pizzas, and handcrafted ales from Bloomington Brewing Company. The restaurant has a laid-back atmosphere, perfect for those seeking a casual meal.
Nick's English Hut
Nick's is an IU institution for students, alumni, and fans, standing at its Kirkwood location since 1927. The tavern is known for its energetic game-day atmosphere, Sink the Biz fries, and Sink the Biz drinking game. 
Uptown Cafe
Uptown serves gourmet New Orleans-style, Cajun- and Creole-inspired fare. Their crawfish etouffee is one of the best in town, and their brunch is a must for weekend visitors.
Village Deli
Looking for a local breakfast or brunch joint? Village Deli is a local favorite. Their plate-sized buttermilk pancakes and Paxton's potatoes are two of their most-talked-about dishes. Try one (or both) if you can't decide what to get while you're there.
 
Sweets
Blu Boy Chocolatier & Cafe
Blu Boy offers beautiful from-scratch, gourmet chocolates & desserts, including ice cream sundaes, cookies, cakes, macarons, and more. It's the perfect sweets spot for a romantic date on Kirkwood.
Hartzell's Ice Cream
Hartzell's serves homemade ice cream in a wide range of traditional & unique flavors, including salted caramel, cake batter, java chip, and more.
Insomnia Cookies
Insomnia sells warm cookies & brownies from 11:00 am-3:00 am — making it the perfect post-bar-crawl snack shack, located just downstairs from The Upstairs Pub.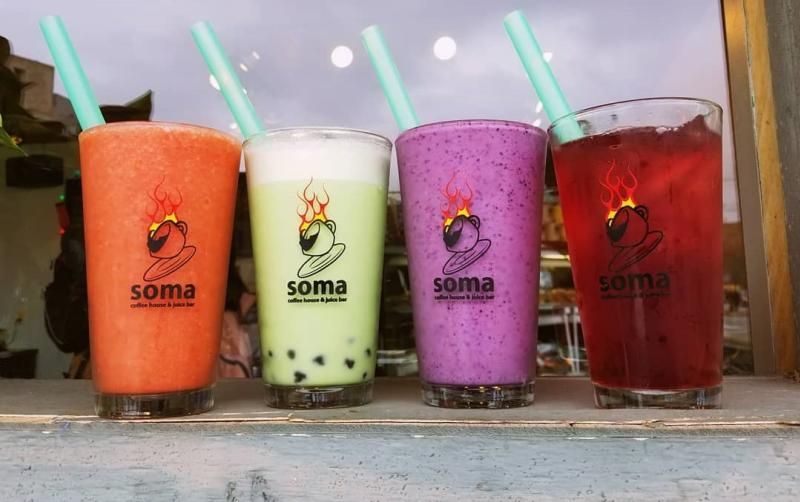 Photo by Soma Coffee House & Juice Bar
Soma Coffee House & Juice Bar
The caffeine-addicted and juice-obsessed will love Soma. The quirky-cool Bloomington cafe chain offers classic & unique coffee beverages, fresh smoothies & juices, a wide range of hot & iced teas, and a variety of fresh-baked pastries for those who like to have something to munch on while enjoying their brew of choice.
 
Quick Bites
If you're in B-Town during the warmer months, you'll likely see a few food trucks parked on the avenue. Grab some tacos from La Poblana Taco Truck, a mac 'n' cheese-stuffed grilled cheese from The Big Cheeze, or a gyro from Doner Kebab, then enjoy your street food at an outdoor table at People's Park.
 
Bar Scene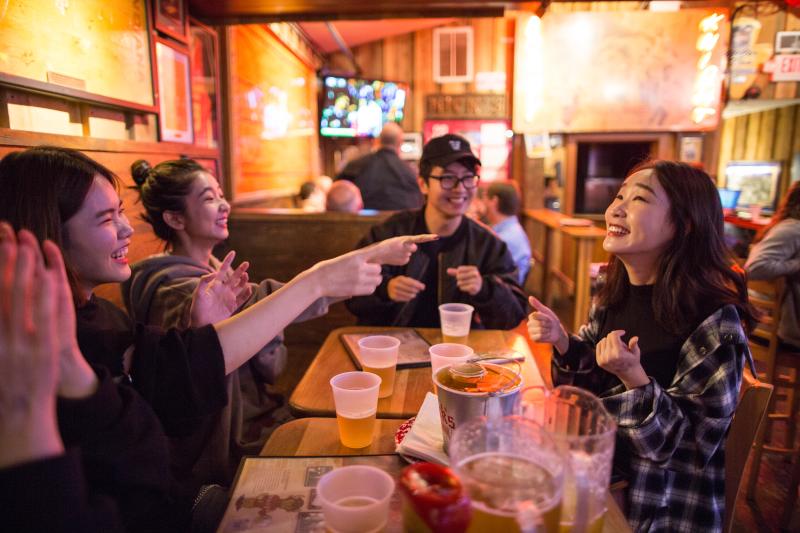 Kilroy's on Kirkwood
Kilroy's is one of the most legendary bars in Bloomington, as it's a rite of passage for all IU students to day-drink on their back patio on game days and party into the night on any other occasion. If you're looking for a bar with a hopping scene, this is the one.
The Upstairs Pub
If you're looking for a more relaxed setting, The Upstairs Pub has a second-story patio that offers a great view of Kirkwood from above, and they also have darts & pool available for play.
Nick's English Hut
If you want to catch a sports game and a few brews or play a round of Sink the Biz with your crew, Nick's is the place for you. 
 
Stay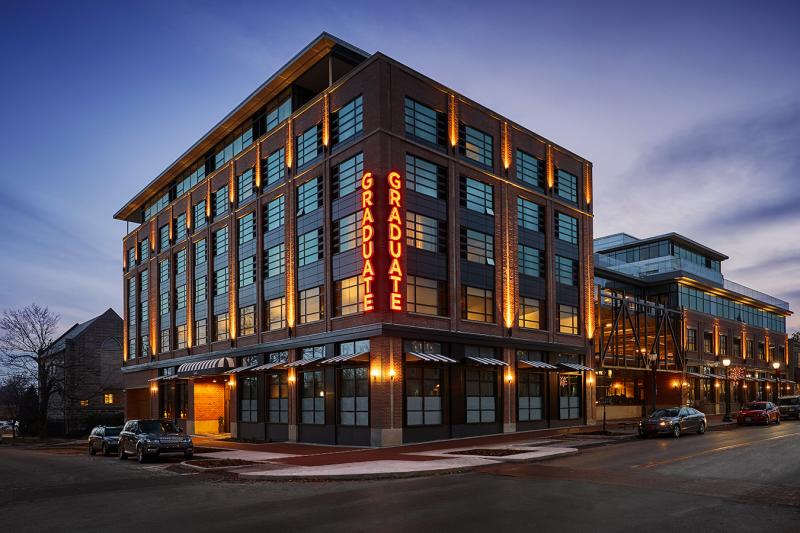 Planning to have a late night on Kirkwood? Or, perhaps you simply won't be ready to part with the iconic street by the end of one day. If you want to extend your stay on Kirkwood for any reason, check in at the Graduate hotel. A wonderfully unique place to stay, the Graduate's concept is to celebrate the youthful spirit and nostalgia of the college days, nodding to the history and heritage of Indiana University in our beloved B-Town. In addition to its charming decor and IU memorabilia, the hotel also offers complimentary bike rentals, a roof-top terrace, and an in-house diner.
 
Looking for more downtown shopping, restaurants, and nightlife? Check out these blogs: