Bloomington's Best Outdoor Hidden Gems
Bloomington is home to a slew of fantastic outdoor destinations, including some of which you might never discover unless a local tells you about them. Consider us your local source for outdoor hidden gems in the area — attractions located off the beaten path, tucked away from the hustle and bustle of Bloomington. Discover their magic for yourself during your next visit!
 
Clear Creek Trail & Limestone Greenway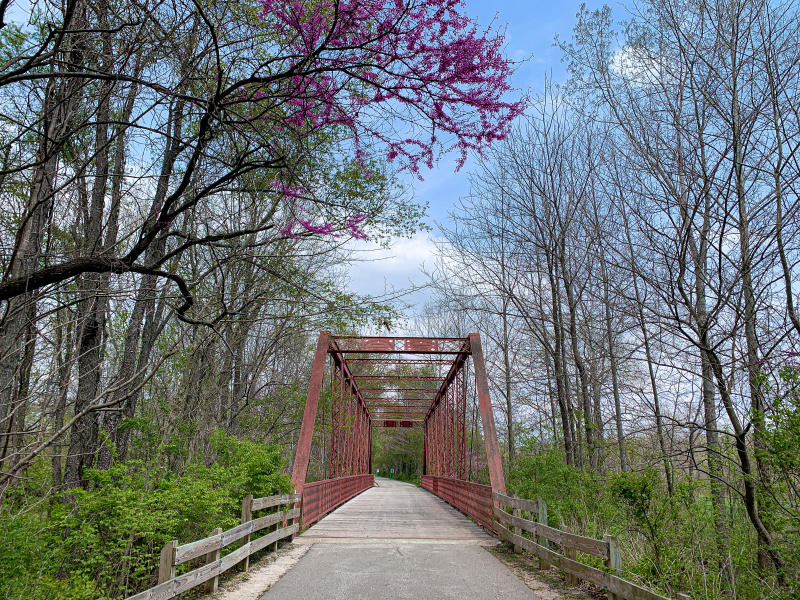 Located on the south end of Bloomington are the Clear Creek Trail (2.4 miles) and Limestone Greenway (1.7 miles), which connect with one another for a combined 3.1 miles of pavement. Both trails offer a peaceful path for walking, running, biking, roller skating, and other activities, featuring some unique sights along the way.
On the Clear Creek Trail, you'll cross a historic 150-foot wrought-iron bridge, originally constructed in 1887. You'll also pass by a small farm with an abundance of extremely friendly chickens, goats, and sheep — the chickens are known to escape the farm's fence and wander the trail, giving visitors a good laugh. Both urban trails are lined with trees, which are especially beautiful during fall. If you want to admire Bloomington's nature without straying too far from the heart of town, these hidden gem trails are fantastic options.
 
Dunn Woods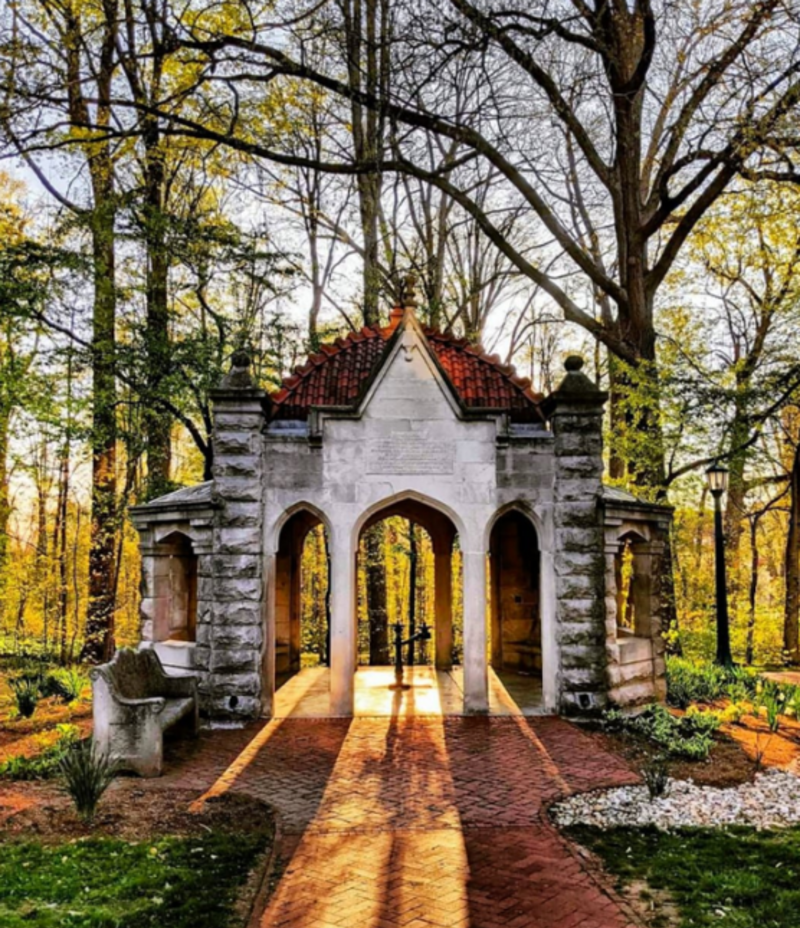 Photo by @scenicindiana on Instagram
Dunn Woods is a gorgeous 20-acre woodland plot on the southwest side of the Indiana University campus near Sample Gates, known as a passion project of former university president, Herman B Wells. It serves as a stunning backdrop for the Rose Well House and offers several brick paths for peaceful exploration among the centuries-old trees. The wooded expanse's magical, Snow White-esque ambiance make this area of campus a very special place — one you may not stumble into unless you know it's there.
 
Griffy Lake Nature Preserve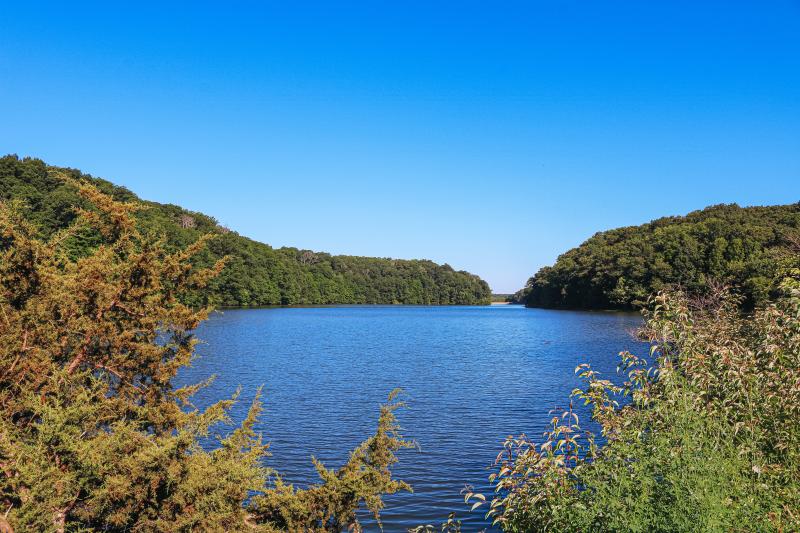 Griffy Lake is a 109-acre lake surrounded by a 1,200-acre nature preserve. The stunning grounds are located mere minutes from Indiana University's campus, hidden just across the way from Memorial Stadium and Assembly Hall — a shocking discovery for those who have never stumbled across the serene property.
Rent a canoe, kayak, or stand-up paddleboard from the lake's boathouse, go fishing for bass, bluegill, and catfish, or hike one the many trails throughout the nature preserve for a peaceful afternoon among the elements, yet close to the city.
 
Hickory Ridge Fire Tower
While the Hickory Ridge Fire Tower is a very popular destination, it's one you would never stumble across unless you'd previously heard about it. Located deep within the Hoosier National Forest, the tower is a highly-sought-after Bloomington photo op location, standing at 110 feet tall and offering a view of B-Town's rolling hills like no other. Those who are afraid of heights may face a challenge in traversing the 133-step staircase, but the incredible 360-degree view is well worth the climb — and Instagram post. 
 
Latimer Woods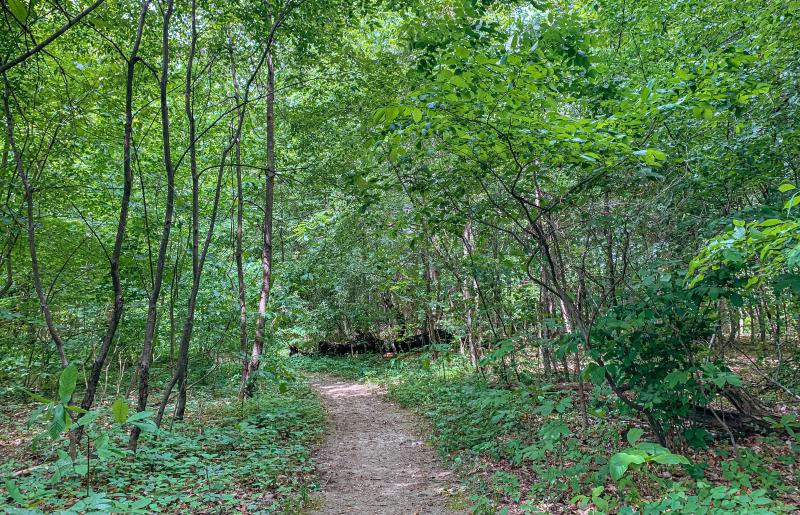 Latimer Woods is a small, old-growth forest in the middle of Bloomington's bustling east side of town. The woods' 10 acres hide just across the street from College Mall, with many not realizing it's a public park with a .38-mile trail. The short path winds through what was once Latimer Farm, with interpretive signs detailing the history of the property posted along the way. If you're a beginner hiker or you're hiking with small children and/or leashed dogs, this would be a great trail for you to seek out. 
 
Leonard Springs Nature Park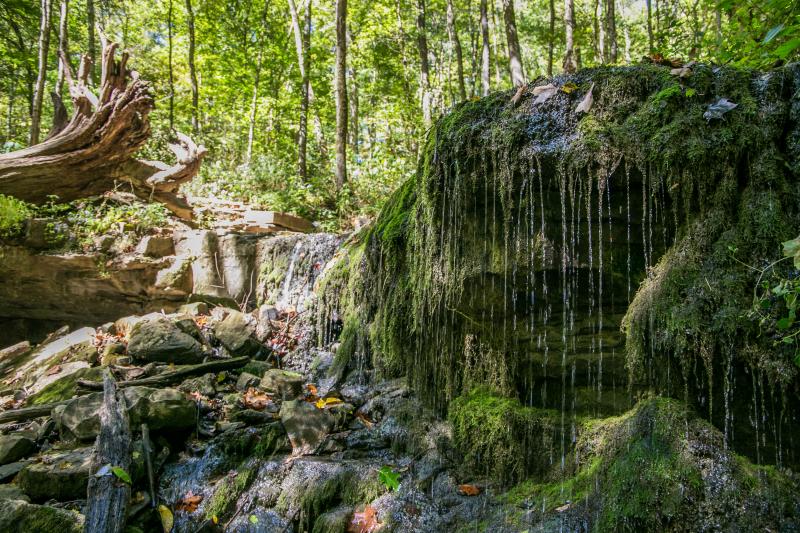 Leonard Springs Nature Park is a hidden gem on the west side of Bloomington, just a short drive from Mother Bear's Pizza West. The 95.5-acre park features caves, forestry, springs, and wetlands, housing a rich variety of plant & animal life and a 1.1-mile trail. If you prefer a more rugged nature hike to an in-town paved trail like the nearby Limestone Greenway, Leonard Springs would be a great spot for you to visit — it's especially friendly for families and beginner hikers due to its shorter distance.
 
Monroe Lake Dam & Spillway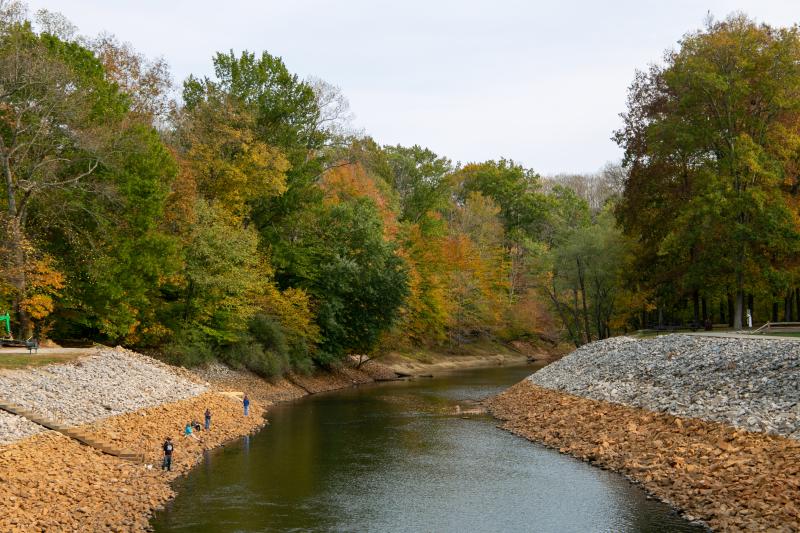 Located just minutes from the Fairfax State Recreation Area at Monroe Lake is the dam and spillway, an area designated for lake water overflow in the event of a flood. When the spillway is not full, it's a popular area for fishing, picnicking, sight-seeing, and wildlife observation.
To get to the spillway, drive down the winding & wooded Monroe Dam Road. You'll find it suddenly opens up to an elevated expanse of road over the dam, offering an incredible viewpoint of the lake — especially at sunset. Parking is available by Salt Creek, where many people enjoy casting a line to try their luck in catching a few fish. Picnic tables are available on the opposite side of the creek bank from the parking lot, making it a great location for an afternoon with kids or a day-long fishing excursion.
 
Stillwater-Northfork Waterfowl Resting Area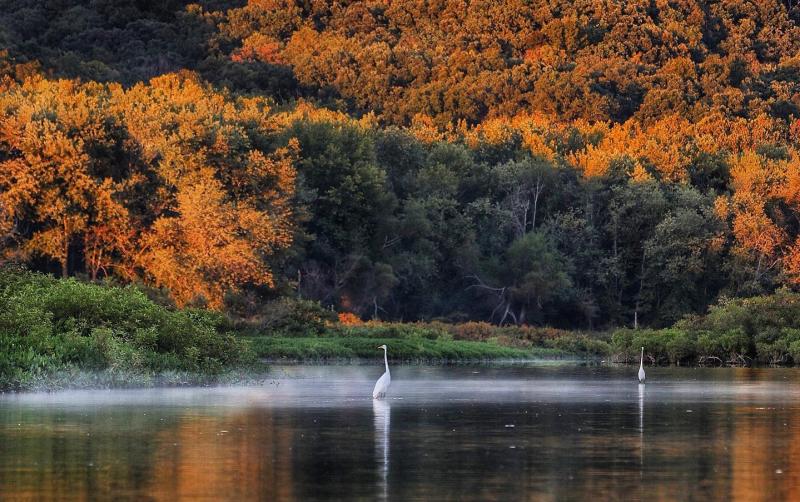 Photo by @sunnhunt on Instagram
Another of Monroe Lake's best hidden gems is the Stillwater-Northfork Waterfowl Resting Area, located just north of the Paynetown State Recreation Area. The large marsh habitat and woodland area is a refuge for many types of birds, including waterfowl, raptors, shorebirds, and wading birds.
Open to the public from mid-April to the end of September, there are several great viewpoints for visitors to observe and admire the wildlife population. The Stillwater Marsh overlook is located at the start of McGowan Road, and the Northfork Waterfowl Resting Area offers several trails for hiking and viewing. To fully immerse yourself in the habitat, launch a kayak at the nearby Pine Grove Recreation Area and gently paddle along while admiring the area's inhabitants. If you're limited on time during your visit, a drive down McGowan Road also offers glimpses of winged wildlife soaring through the air.
 
Tibetan Mongolian Buddhist Cultural Center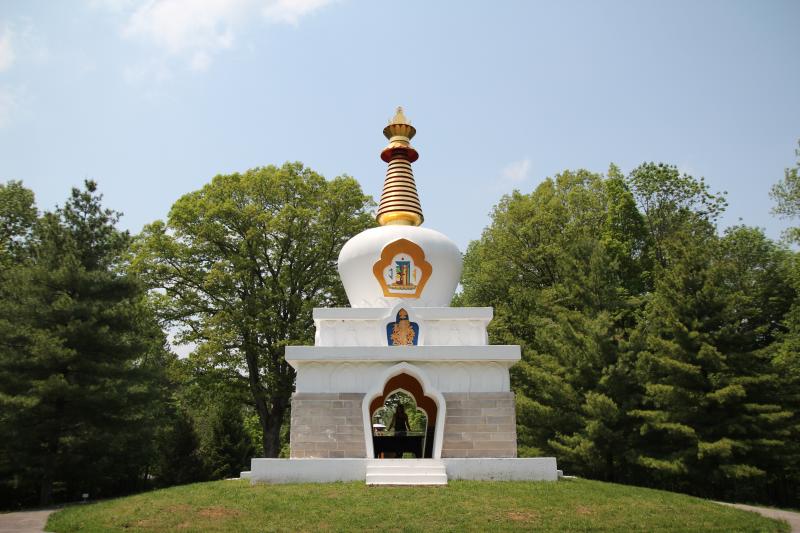 Frequently visited by the Dalai Lama, Buddhist teachers, and scholars from around the world, the Tibetan Mongolian Buddhist Cultural Center (TMBCC) is perhaps Bloomington's best hidden gem, located off the beaten path in a residential area on the east side of town. Dedicated to fostering, preserving, and sharing the Tibetan & Mongolian cultures with the Bloomington community and the United States as a whole, you would likely never discover the center unless you'd been told about it by a local (or by your friends at Visit Bloomington!).
The TMBCC's grounds offer many beautiful views of cultural architecture, decor, and design, including the nation's sole Tibetan Chortens (Buddhist shrines), both dedicated by the Dalai Lama, and the Mani Korlo, a structure featuring Tibetan prayer wheels. In addition to being B-Town's best hidden gem, it's also one of the most unique attractions in the area.
 
Wapehani Mountain Bike Park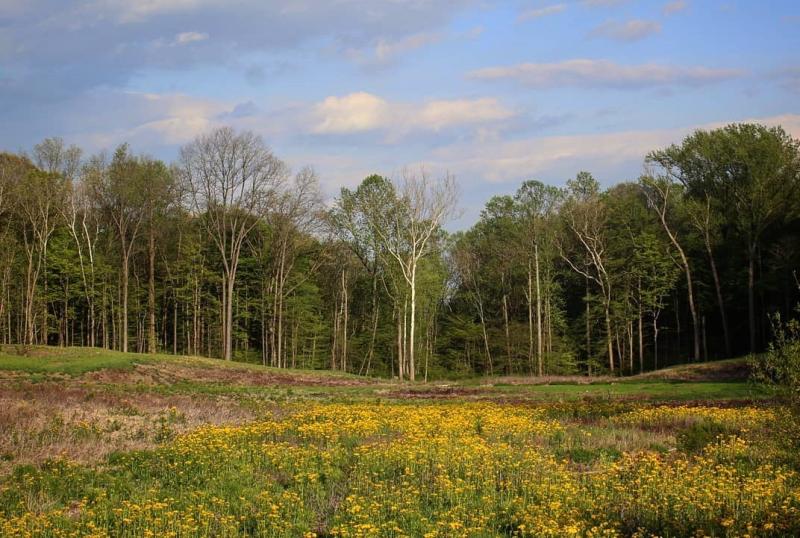 Photo by @racheyhartleysmi on Instagram
A very short drive from the west side's Whitehall Crossing & Plaza shopping centers hides Wapehani Mountain Bike Park, a 46-acre mountain bike park — the first to be established in the state of Indiana. It features five miles of mostly single-track trails across its wooded and grassy land, offering challenges and reprieves for every experience level, although most of the trails are geared toward intermediate experience. Adventurers will pass a sinkhole, a log ride, a wood ramp over a tree, an Eagle Scout bridge, a rock jam feature, and more. The park is open to hikers as well — simply keep an eye out for bikers passing by.
Looking for more hidden gems in B-Town? Check out these blogs: