Quick & Cheap Lunch Spots Near Campus
Categories: The IU Student Perspective, Indiana University, Wine & Culinary
Bloomington boasts a huge variety of locally-owned restaurants, and many of them are close to the Indiana University campus, which is extremely convenient if you need to grab a bite to eat without straying far from the university. If you're looking for a quick & *cheap lunch between classes or events, we've got you covered with this list of 10 tasty eateries.
*For the purpose of this article, we've defined "cheap" as $15.00 or less.
 
International Cuisine

Dat's Cajun Creole Cafe
Also located on 4th Street is Dat's Cajun Creole Cafe, right across the street from Anatolia. All but three of Dat's menu offerings are available for $9.95. Local favorites are the Chili-Cheese Etouffee with Crawfish, the Voodoo Chicken Dinner, and the Datwich Sandwich.
Japonee Express
Sushi lovers near Sample Gates will definitely want to grab a roll or two from Japonee Express. The Japanese restaurant serves a huge variety of hand rolls, udon soup, teriyaki entrees, and more. Almost everything on their menu is under $10.00, and they also offer several lunch specials from 11:00 am-3:00 pm.
Restaurant Ami
Located across the street from the Jacobs School of Music is Restaurant Ami, another local-favorite for sushi and Japanese fare. Like Japonee, most of their sushi rolls are less than $10.00, excluding chef's specials. They also offer a variety of hot lunch entrees, including bulgogi, fried rice, and tori katsu for $12.00 or less.
Z & C Teriyaki & Sushi
Across the street from Nick's English Hut stands Z & C Teriyaki & Sushi, a little hole-in-the-wall joint that teriyaki lovers won't want to miss. They offer an assortment of teriyaki combos between $8.00-$10.50 — while their sushi is great and also affordable, we highly recommend the chicken teriyaki combo with fried rice and a fried egg. Ringing in at $10.14, it's one of the best teriyaki meals you'll experience in B-Town.

American Eats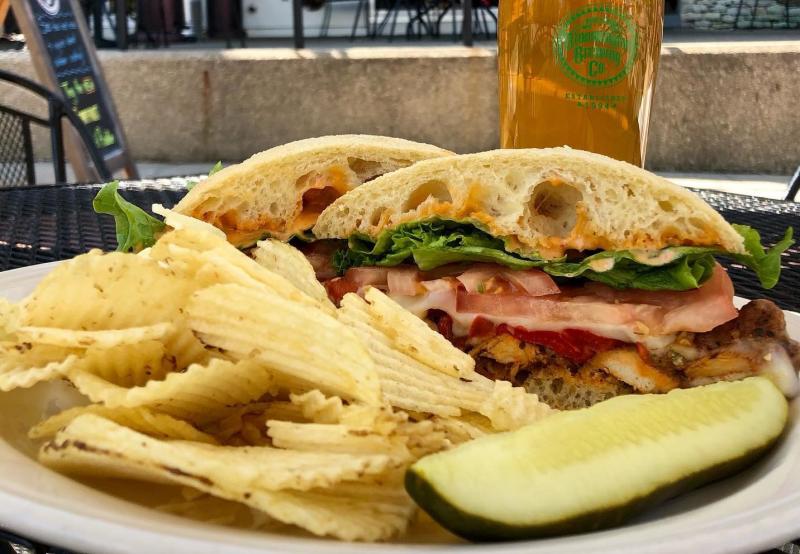 Bloomington Bagel Company
Bloomington Bagel Company has several locations around Bloomington, two of which are on the outskirts of campus. One stands a block away from Franklin Hall, and the other is located across the street from the Simon Music Center. The bagel joint offers a variety of bagel sandwiches — deemed "bagelwiches" — for as low as $1.94 (the Willa's Choice PB&J) and no more than $10.95 (the Lotsa Lox). Two of their bagelwiches are vegetarian-friendly, and anything on their menu can be customized to your liking. 
Dagwood's Deli & Sub Shop
Dagwood's Deli & Sub Shop is located right across the street from Sample Gates. As you can imagine by their name, they offer a variety of sub sandwiches and other deli selections, like wraps and salads. Many of their subs and wraps are less than $11.00.
Lennie's
Lennie's is located about half-a-block away from Sample Gates on Kirkwood Avenue. The restaurant, known for their pizzas, Stromboli, and salads, serves a $12.00 lunch special: choose a soup & slice, a soup & salad, or a salad & slice from the day's selection of featured soups and slices.
Nick's English Hut
Nick's stands just over a block away from Sample Gates, also on Kirkwood. Many of their burgers and sandwiches, including their breaded pork tenderloin, black bean burger, and grilled chicken breast sandwich, are available for $13.00 or less.
The Runcible Spoon
The Runcible Spoon is a local breakfast staple, located two blocks from Franklin Hall. They serve breakfast all day, along with a lunch menu full of comfort food in the afternoon. All but two dishes on their breakfast menu are under $12.00, and the majority of their lunch menu is also $12.00 or less. 
 
Looking for more affordable lunch spots in B-Town? Check out Cheap Lunches in Bloomington.