Quick & Cheap Lunch Spots Near Campus
Categories: The IU Student Perspective, Indiana University, Wine & Culinary
Bloomington boasts a huge variety of locally-owned restaurants, and many of them are close to the Indiana University campus, which is extremely convenient if you need to grab a bite to eat without straying far from the university. If you're looking for a quick & *cheap lunch between classes or events, we've got you covered with this list of 10 tasty eateries.
*For the purpose of this article, we've defined "cheap" as $10.00 or less.
 
International Cuisine

Anatolia
Located on 4th Street, just two blocks from the Maurer School of Law, Anatolia is a Mediterranean restaurant that specializes in Turkish fare. They offer a variety of pides (Mediterranean flatbreads) for under $10.00, in addition to a lengthy menu of Turkish street food, including gyros and falafel wraps, for anywhere from $5.00-$10.00.
Dat's Cajun Creole Cafe
Also located on 4th Street is Dat's Cajun Creole Cafe, right across the street from Anatolia. All but three of Dat's menu offerings are available for $9.95. Local favorites are the Chili-Cheese Etouffee with Crawfish, the Voodoo Chicken Dinner, and the Datwich Sandwich.
Japonee Express
Sushi lovers near Sample Gates will definitely want to grab a roll or two from Japonee Express. The Japanese restaurant serves a huge variety of hand rolls, udon soup, teriyaki entrees, and more. Almost everything on their menu is under $10.00, and they also offer several lunch specials from 11:00 am-3:00 pm, including any three rolls for $8.99, beef udon for $7.99, and vegetable soba for $4.99.
Restaurant Ami
Located across the street from the Jacobs School of Music is Restaurant Ami, another local-favorite for sushi and Japanese fare. Like Japonee, most of their sushi rolls are less than $10.00, excluding chef's specials. They also offer a variety of hot lunch entrees, including bulgogi, fried rice, and tori katsu for $9.29 or less.
Z & C Teriyaki & Sushi
Across the street from Nick's English Hut stands Z & C Teriyaki & Sushi, a little hole-in-the-wall joint that teriyaki lovers won't want to miss. They offer an assortment of teriyaki combos between $8.00-$9.99 — while their sushi is great and also affordable, we highly recommend the chicken teriyaki combo with fried rice and a fried egg. Ringing in at $9.28, it's one of the best teriyaki meals you'll experience in B-Town.

American Eats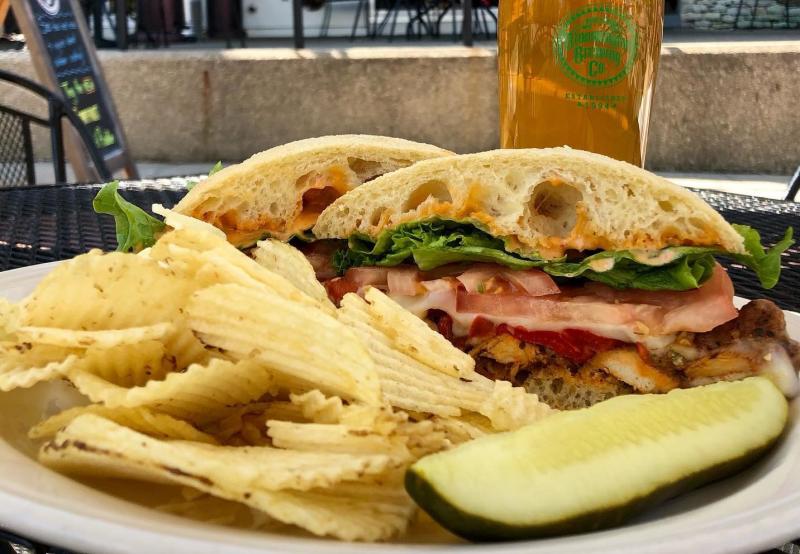 Bloomington Bagel Company
Bloomington Bagel Company has several locations around Bloomington, two of which are on the outskirts of campus. One stands a block away from Franklin Hall, and the other is located across the street from the Simon Music Center. The bagel joint offers a variety of bagel sandwiches — deemed "bagelwiches" — for as low as $1.94 (the Willa's Choice PB&J) and no more than $9.95 (the Lotsa Lox). Two of their bagelwiches are vegetarian-friendly, and anything on their menu can be customized to your liking. 
Dagwood's Deli & Sub Shop
Dagwood's Deli & Sub Shop is located right across the street from Sample Gates. As you can imagine by their name, they offer a variety of sub sandwiches and other deli selections, like wraps and salads. Nearly every single one of their subs and wraps are less than $10.00, and they also serve a half-sandwich and soup combo for $7.59.
Lennie's
Lennie's is located about half-a-block away from Sample Gates on Kirkwood Avenue. The restaurant, known for their pizzas, Stromboli, and salads, serves a $10.00 lunch special: choose a soup & slice, a soup & salad, or a salad & slice from the day's selection of featured soups and slices.
Nick's English Hut
Nick's stands just over a block away from Sample Gates, also on Kirkwood. Many of their burgers and sandwiches, including their breaded pork tenderloin, black bean burger, and grilled chicken breast sandwich, are available for $10.00 or less.
The Runcible Spoon
The Runcible Spoon is a local breakfast staple, located two blocks from Franklin Hall. They serve breakfast all day, along with a lunch menu full of comfort food in the afternoon. All but two dishes on their breakfast menu are under $10.00, and the majority of their lunch menu is also $10.00 or less. 
 
Looking for more affordable lunch spots in B-Town? Check out Cheap Lunches in Bloomington.