Make the Most of Your College Visit in Bloomington
Categories: Indiana University, Outdoors
The awesome, talented people in Indiana University's Office of Admissions team have your campus visit covered, but what about life outside of campus? Make the most of your time in Bloomington by experiencing the food, shops, and recreation we have to offer as you consider making B-Town your home for the next four years.
 
Eat Like a True Hoosier
BuffaLouie's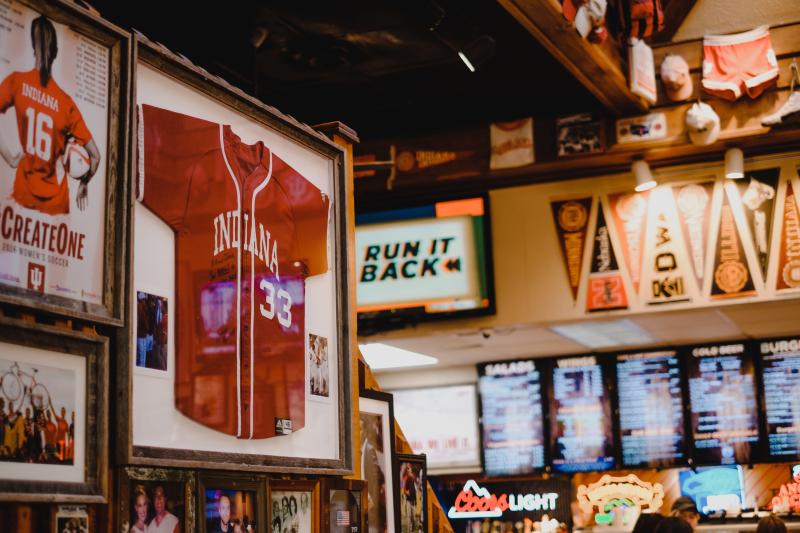 If you ask a campus guide, IU student, or Bloomington townie where you should grab a bite to eat, there's a strong chance they'll recommend BuffaLouie's. The iconic wings joint is known for their incredible food, epic interior, and Hoosier sports enthusiasm. It's the best place to grab wings in town — although their sandwiches, burgers, and salads are amazing, too — and it's one of the best places to watch an IU game if you can't make it there in person. The walls are decorated from floor-to-ceiling with sports memorabilia, vintage signs, signed IU jerseys, TVs broadcasting a variety of sports games, and much more. It's more than just a place to go to eat — it's a Bloomington experience. 
 
Mother Bear's Pizza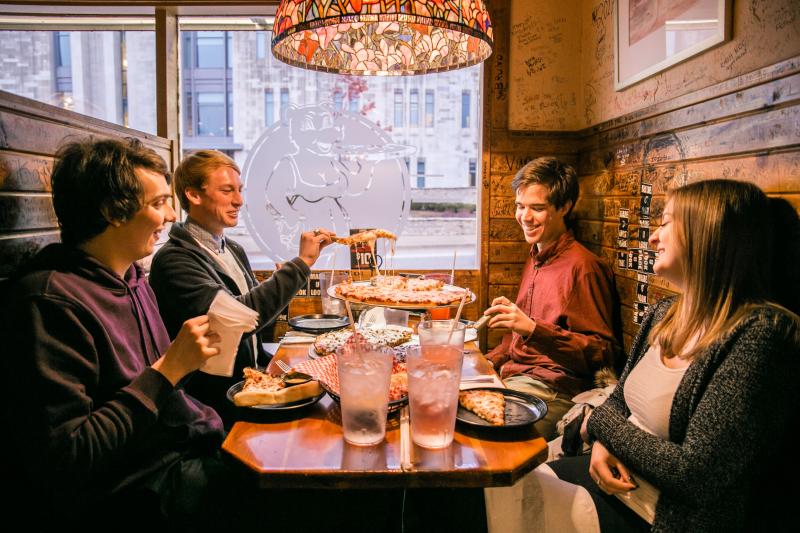 If BuffaLouie's isn't the first recommendation you're given, Mother Bear's Pizza is another likely answer. Ranked the fourth-best pizza joint in the nation, Mother Bear's is known for their variety of incredible signature pies with toppings all the way to the edge of the pizza. With over 20 signature creations to choose from, as well as a build-your-own option, there's something to satisfy every craving. While pizza is their crown jewel, Mother Bear's also serves delicious salads, wings, hot subs, pasta dinners, and a variety of "munchies." Visit their location across the street from the Jacobs School of Music so you can write your name on the wall in Sharpie — a new student rite of passage.
 
Nick's English Hut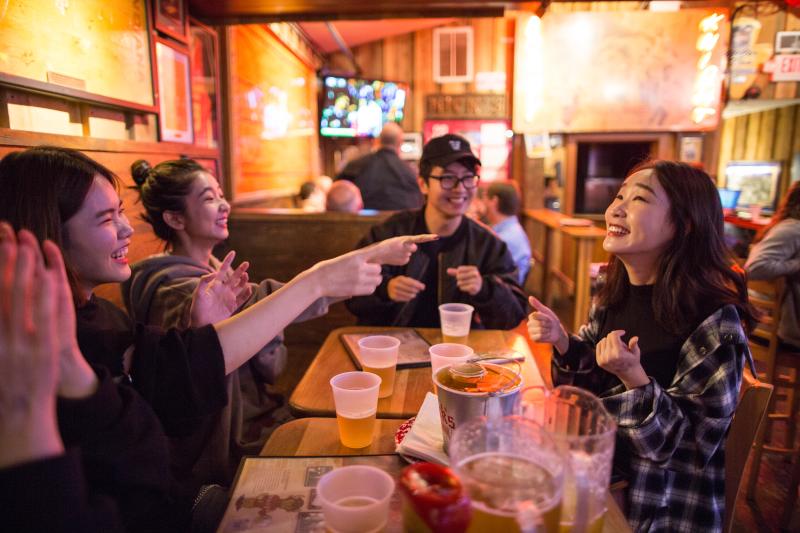 If you ask a Hoosier alum where you should go for a bite, they'll definitely suggest Nick's. Serving the Bloomington community since 1927, Nick's English Hut is an IU student, alumni, and fan staple. Decorated much like BuffaLouie's with Hoosier fanfare from floor-to-ceiling, Nick's is known for their great atmosphere, Sink the Biz drinking game & French fries, and their delicious stromboli & sandwiches. Enjoy a bite here while you visit, and keep it in mind when you're looking for a place to catch an IU game with friends.
Grab an IU Souvenir
Greetings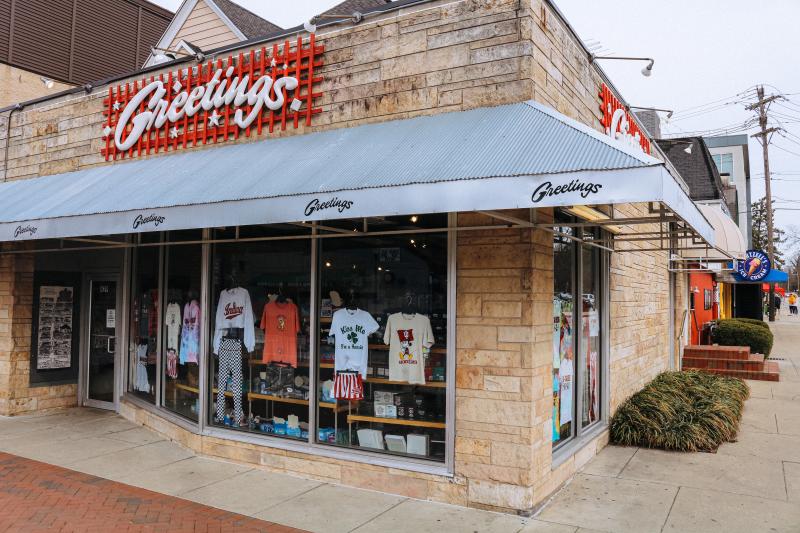 It's only right that you grab a souvenir or two to remember your first official IU visit, and there's a lot of great places to shop for one near campus. Greetings is a local favorite on Kirkwood for unique IU apparel, as well as car accessories and dorm decor. They also have a section dedicated to quirky gifts, which is always fun to peruse.
 
The Indiana Shop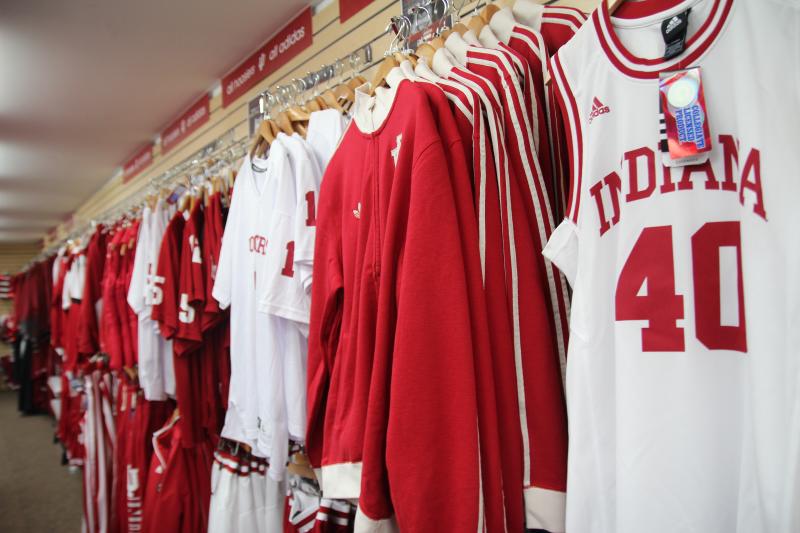 Located a few storefronts down from Greetings right next to Nick's, The Indiana Shop is a great place for the entire family to do some shopping. Find IU Mom and IU Dad gear for the parents, sports-specific apparel for the Hoosier sports fans in your family, and tees for every school at the university for you to represent your major & college as you begin your journey at IU. 
 
Tracks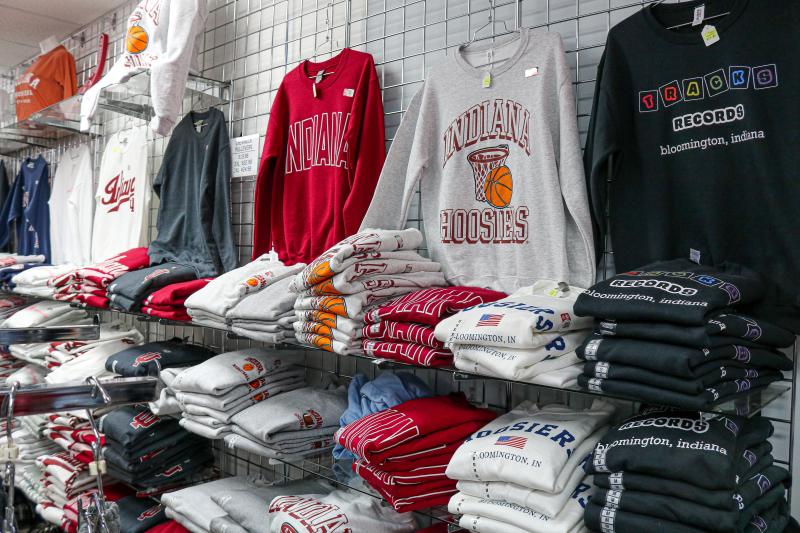 Just a few more storefronts down the street will put you at Tracks, a local IU apparel and music store. Known for their trendy clothing and limited edition t-shirts, Tracks is a great place to go for unique IU tees, sweatshirts, crop tops, hats, and more. 
Experience the Culture of Bloomington
4th Street — International Restaurant Row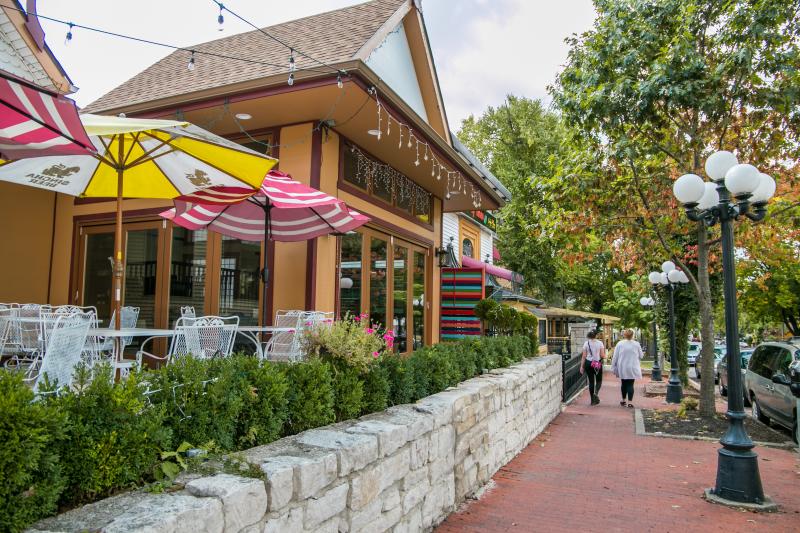 There are a few stand-out places you may hear about during your visit, one of them being 4th Street. Located just a block south of Kirkwood Avenue, the street is known as "International Restaurant Row" due to the abundance of international restaurants lining both sides of the street. It's said that you can experience the world without a passport here in Bloomington by trying the cuisine at each restaurant — choose from Burmese, Tibetan, Turkish, Thai, Indian, Korean, Japanese, Chinese, and more.
 
Griffy Lake Nature Preserve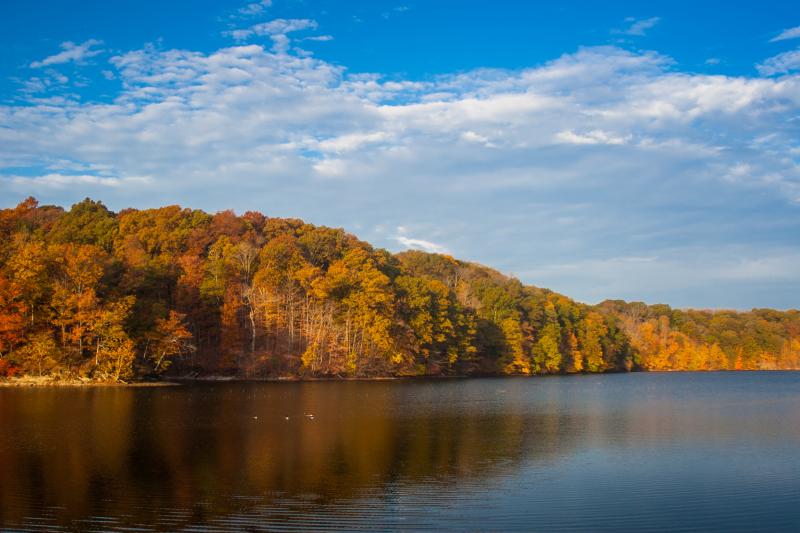 Bloomington has an abundance of nature recreation and outdoor adventure, but the closest destination to campus is the Griffy Lake Nature Preserve. Just a five-minute drive from Assembly Hall, Griffy Lake offers fishing, canoeing & kayaking, hiking, stand-up paddleboarding, wildlife observation, and gorgeous scenery for nature photography. It's so close to IU's campus and the city that you don't expect to find such an incredible nature scene unfold two miles away from the hustle & bustle of it all, but that's what makes it that much more special of a place.
 
Kirkwood Avenue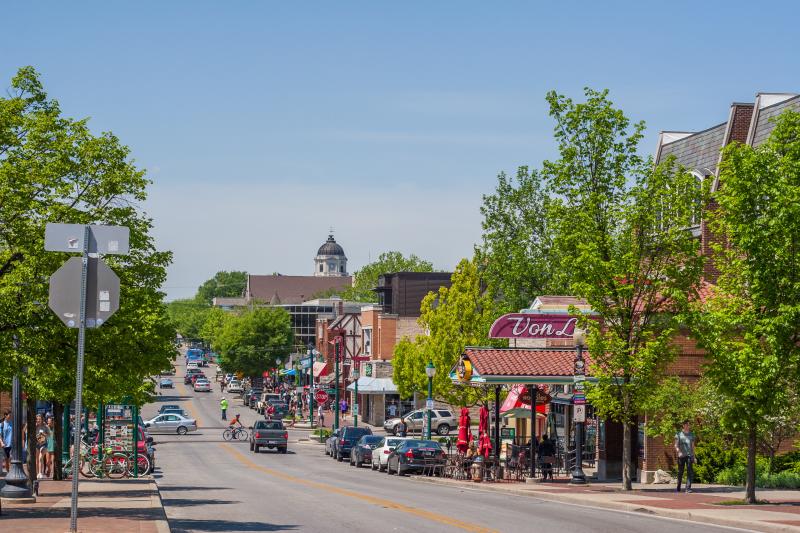 As previously mentioned, Kirkwood Avenue is the most iconic street in Bloomington. Known for its proximity to campus & popular restaurants, bars, and shops, Kirkwood is a must on your list of things to do while visiting the university. Exit campus through Sample Gates to walk straight onto the promenade — grab a bite at Nick's, then pop into Greetings, The Indiana Shop, and Tracks for your commemorative "first IU visit" souvenir. Don't forget to take a photo at Sample Gates and along Kirkwood, and tag us on Instagram using #visitbtown!
 
The Square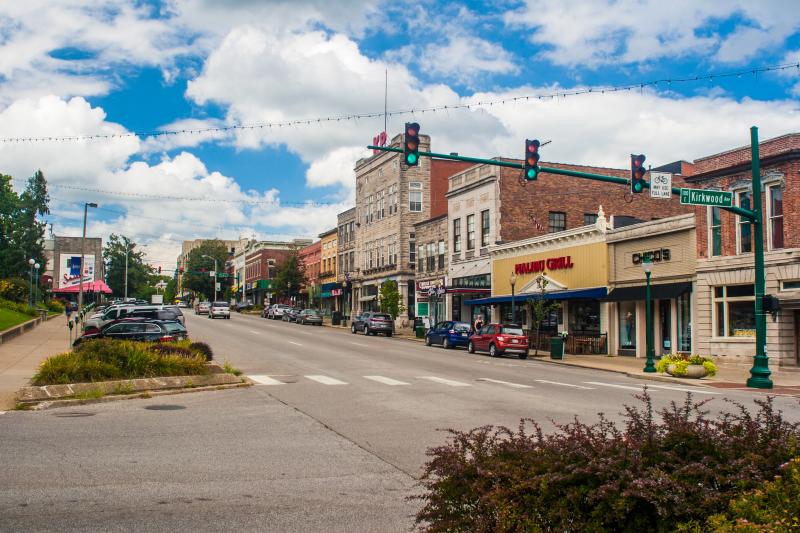 Located at the end of Kirkwood is "The Square," downtown's most prominent area for shopping and dining. You could spend an entire day perusing local stores, eating at the various restaurants as mealtimes pass by, and exploring the hidden gems on the streets that surround The Square. Between Kirkwood and The Square, there's plenty of downtown to see just a short walk from campus.
Stay Close to Your (New) Home
The Biddle Hotel & Conference Center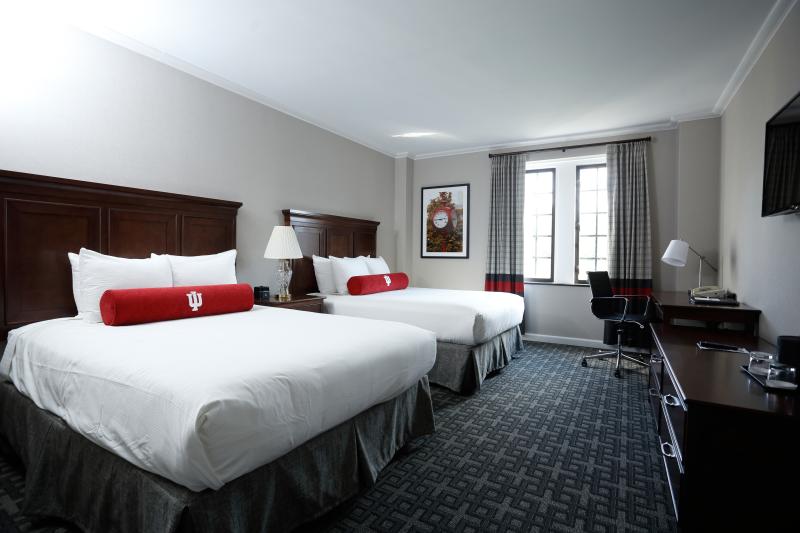 Located inside the Indiana Memorial Union on campus, the Biddle Hotel offers the ultimate Hoosier hotel stay: in the heart of campus, at the second-largest student union in the nation, fully immersed in Cream & Crimson culture. The hotel offers recently renovated rooms just a short walk from IU's Sample Gates and Bloomington's iconic Kirkwood Avenue. Venture into the student union portion of the building to experience the famous Tudor Room, IMU Bowling & Billiards, IU Bookstore, East Lounge, and much more.
 
Graduate Bloomington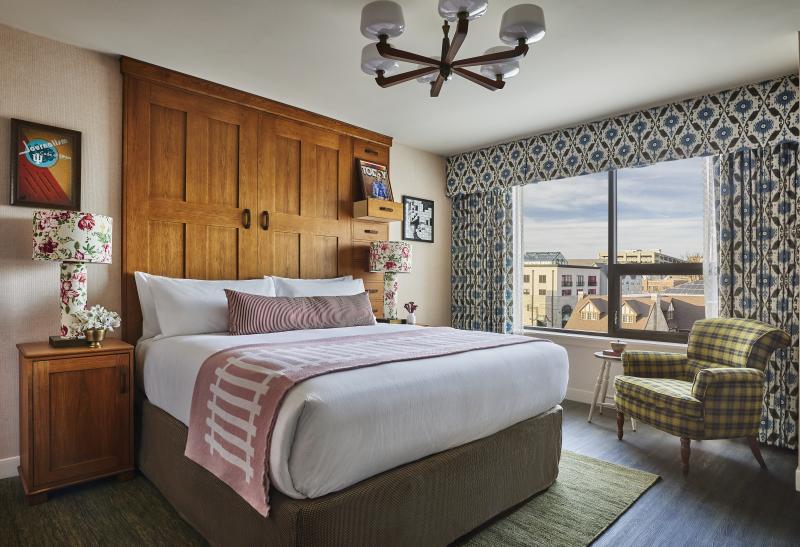 The Graduate Hotel is a great place to stay if you want to be immersed in Hoosier culture, but you want to stay in town rather than on campus. The hotel's concept is to celebrate the culture of the university and of Indiana, using both the decor and design of the entire building. Rooms feature nods to the Little 500, pops of Hoosier plaid, vintage IU sports memorabilia & equipment, and much more. In addition to its thoughtful design and rich history, the Graduate has a great location on Kirkwood and features the Jack & Diane Terrace, which overlooks a unique view of downtown — it's one of the most Instagrammable places in Bloomington.


Looking for more information on being a first-year student? Check out the following:
New to Indiana University