Tuesday, September 12, 2023
Top Places to Explore in Bloomington This Fall
Categories: Outdoors
Bloomington is home to a long list of great outdoor destinations. While they're all incredible during any time of the year, certain places seem to really shine during specific seasons. While you're visiting B-Town this fall, check out the following forests, trails, nature preserves, and other seasonal wonders. The fall foliage and crisp air make them all just a little more magical than usual — it's something special you don't want to miss.
 
Bloomington Rail Trail
Where the B-Line Trail ends, the Bloomington Rail Trail begins, creating a major corridor from downtown to the southern part of the city. The two-mile trail starts at Country Club Road (where the trail parking lot is located) and winds south through wooded and residential areas. At its southern-most point, the Rail Trail connects to the Limestone Greenway to continue on south, which is great for long-distance runners and bikers. The gorgeous fall foliage that lines much of the urban trail is what makes it such a great B-Town attraction to explore during autumn!
 
Cedar Bluffs Nature Preserve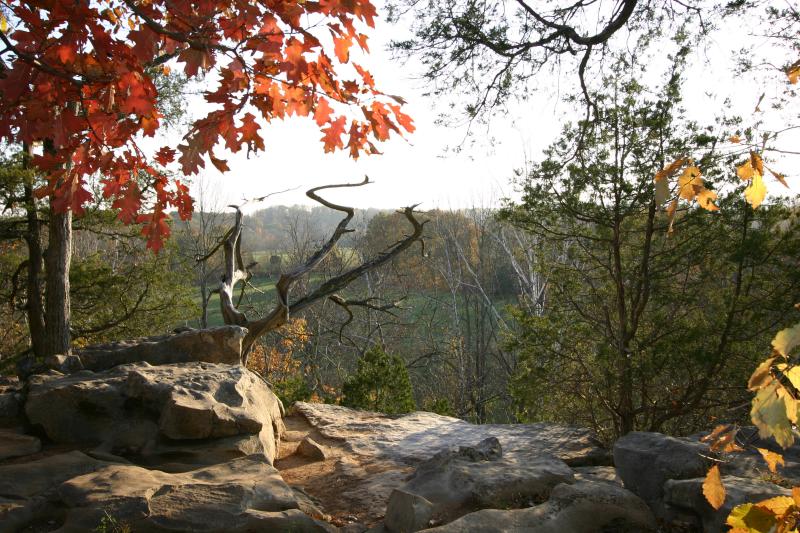 Cedar Bluffs Nature Preserve offers an extremely unique perspective of nature in Monroe County — the 23-acre property features a 75-foot high limestone bluff and gnarled red cedars clinging to cliffs, displaying nature's will to survive in a harsh environment. The unique landscape looks as if it's on fire during fall due to the changing leaves, which makes it an even more dramatic sight. The nature preserve also features a limestone rock-walled valley, a tributary stream of Clear Creek, and other interesting rock formations — it's a must-see destination for any nature enthusiasts.
 
Fowler Pumpkin Patch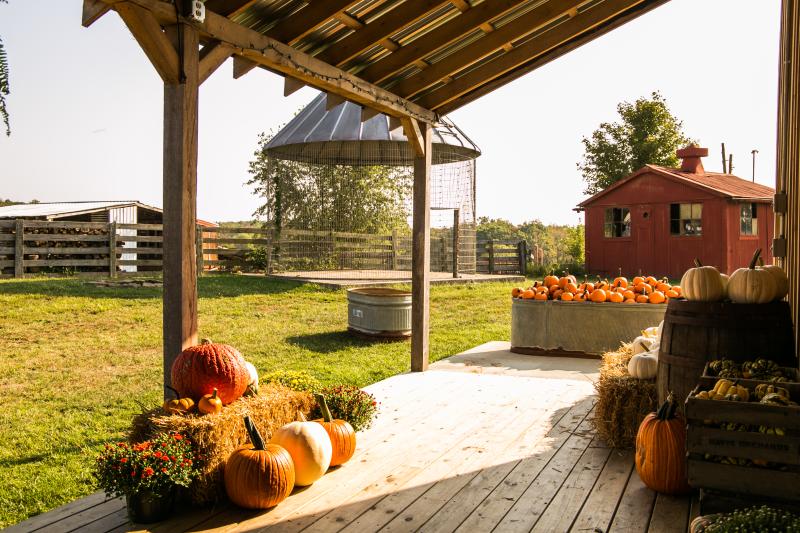 Fowler Pumpkin Patch is your quintessential pumpkin patch, complete with a corn maze, petting zoo, hayrides, u-pick pumpkin patch, and more. It's the perfect attraction for all ages, and one could argue that it's the most fall destination in the area — be sure to check it out for some seasonal fun and great photos.
 
Hoosier National Forest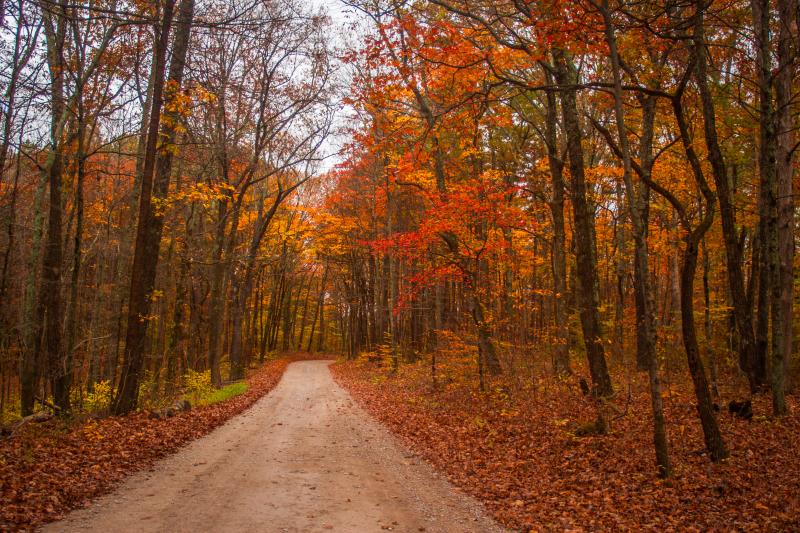 Comprised of over 200,000 acres, tens-of-thousands of which are found in Monroe County, and Indiana's only wilderness area, the Charles C. Deam Wilderness, the Hoosier National Forest offers some of Bloomington's most breathtaking views of fall-toned forestry. Explore the Hoosier on foot, by bike, or on horse-back, and be sure to stop at the Hickory Ridge Fire Tower to experience the forest from 110 feet in the air. Make it a day-long adventure by trekking the Deam Wilderness' Peninsula Trail for a view of the stunning fall foliage along the shore of Monroe Lake. 
For more information on the fire towers in Monroe County and the surrounding areas, check out our fire tower blog.
 
Indiana University's Old Crescent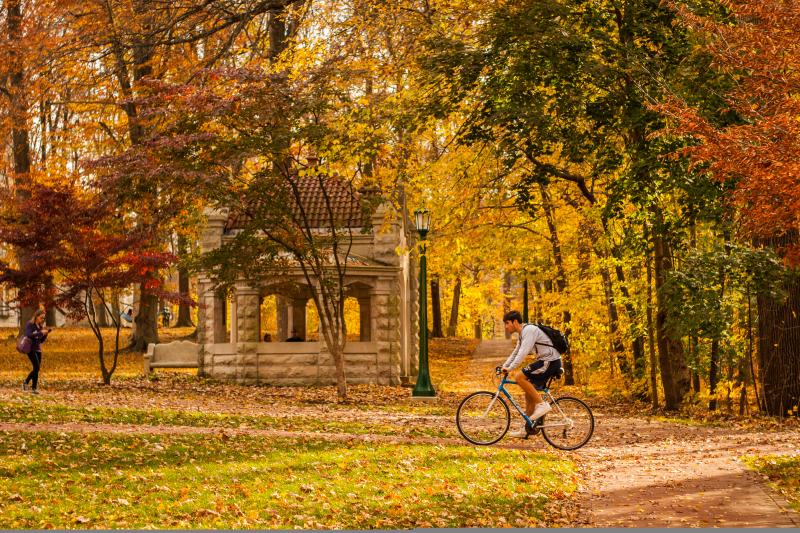 Indiana University exudes a regal beauty during all seasons of the year, but it stands at its most stunning during fall. The most beautiful area of campus during the harvest season is Old Crescent, which includes the Rose Well House, Herman B Wells statue, Indiana Memorial Union, Kirkwood Observatory, Sample Gates, Dunn Woods, and several class buildings, including Kirkwood Hall, Franklin Hall, Maxwell Hall, and the Student Building. The abundance of fiery-toned trees and red brick sidewalks against the limestone landmarks and buildings is one of Bloomington's most beautiful sights to see during fall — don't leave town before you've experienced it yourself.
 
Morgan-Monroe State Forest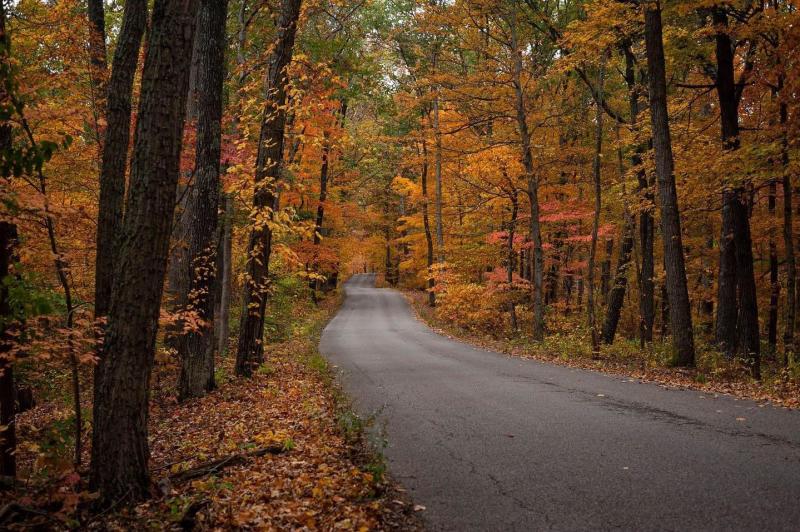 Photo by Garrett Beatty Photography
On the opposite side of Bloomington from the Hoosier National Forest lies the Morgan-Monroe State Forest. Just 20 minutes north of Indiana University, the state forest is comprised of over 25,000 acres, featuring steep ridges and valleys, three lakes, three campgrounds, nine hiking trails, three nature preserves, and a fire tower. If you're looking to spend some time in nature and are already familiar with the Hoosier, explore this outdoor gem during your time in B-Town this fall.
For more information on the fire towers in Monroe County and the surrounding areas, check out our fire tower blog.
Muscatatuck National Wildlife Refuge
Wildlife enthusiasts and avid birders are in for a treat at the Muscatatuck National Wildlife Refuge during fall. As the season of migration for many winged species, there are a variety of beautiful flocks to admire in the habitat, including cormorants, blue-wing teal, tree swallows, ducks, grebes, coots, sandhill cranes, migrant raptors, and many more. Owls also frequent the refuge — what's more fall than an owl sighting? Waterfowl numbers usually peak in mid-November — take your time admiring the preserve's inhabitants, then head to the nearby Beanblossom Bottoms Nature Preserve for a wetland habitat boardwalk hike.
 
Oliver Winery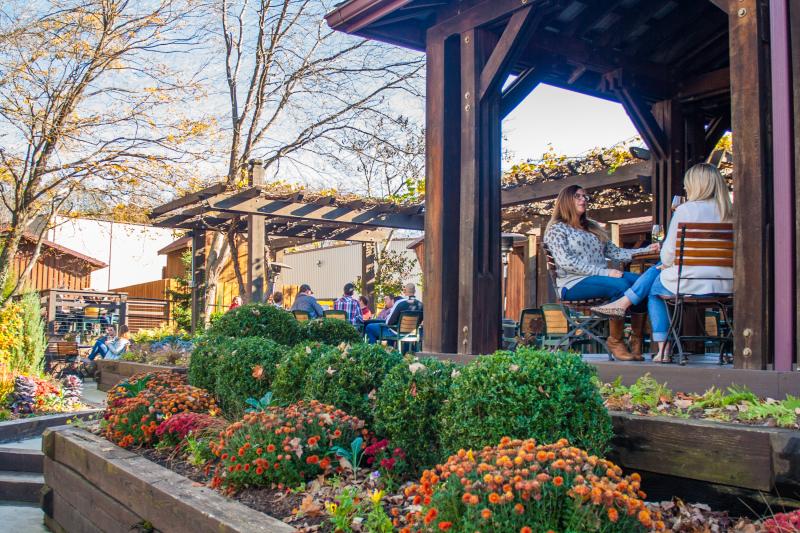 Oliver Winery is one of the largest wineries in the United States. They offer reserved wine flights and picnic experiences on their incredible grounds, which are decorated with pumpkins and mums amongst the surrounding wooded land during fall. The winery feels very much like a secret garden hidden away in the forest, making it the perfect place to admire the changing leaves and breathe in the crisp autumn air. Plus, a glass of their seasonal Apple Pie wine is a must during any fall B-Town visit.
 
Rose Hill Cemetery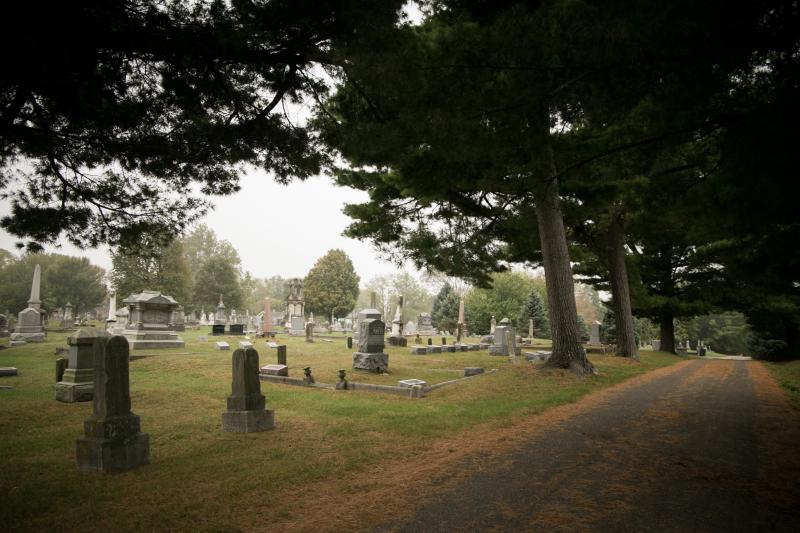 Since fall is also spooky season, it only seems right to include one of Bloomington's most spooky attractions in this list. Rose Hill Cemetery is the final resting place of many prominent B-Town citizens, including Hoagy Carmichael, Professor Daniel Kirkwood, and Dr. Alfred Kinsey. Many of the tombstones at the graveyard are crafted from locally-quarried Indiana limestone, offering a unique tour of one of the area's most distinguished industries. Visit during a misty morning or at dusk for maximum goosebumps and chills.
 
Tibetan Mongolian Buddhist Cultural Center
The TMBCC is dedicated to fostering, preserving, and sharing the Tibetan & Mongolian cultures with the Bloomington community and the United States as a whole. Their grounds offer many beautiful views of cultural architecture, decor, and design that make you feel like you've been transported to Asia — views that look even more stunning with red- and orange-colored foliage as their background. The TMBCC is a must on every Bloomington visitor's list during any season, but it's an extremely special experience during fall.
 

Looking for more fall B-Town activities? Check out these blogs: