Top Places to Explore in Bloomington This Spring
Categories: Outdoors
Bloomington is home to a long list of great outdoor destinations. While they're all incredible during any time of the year, certain places seem to really shine during specific seasons. While you're visiting B-Town this spring, check out the following parks, trails, golf courses, nature & wildlife preserves, and botanical gardens. The blossoming trees, chirping birds, and spring temperatures make them all just a little more magical than usual at this time of year — it's something special you don't want to miss.
 
Beanblossom Bottoms Nature Preserve
Beanblossom Bottoms Nature Preserve is a wetland nature preserve, home to a variety of endangered species including the Indiana bat, Kirtland's snake, and a variety of rare orchids. The preserve is comprised of over 800 acres of protected land, which you can observe & admire on their 2.5-mile raised boardwalk trail and four observation decks throughout the habitat. Beanblossom Bottoms is also known for its frog pond and abundance of birds, both of which are great fun to spot for both kids and adults alike.
 
B-Line Trail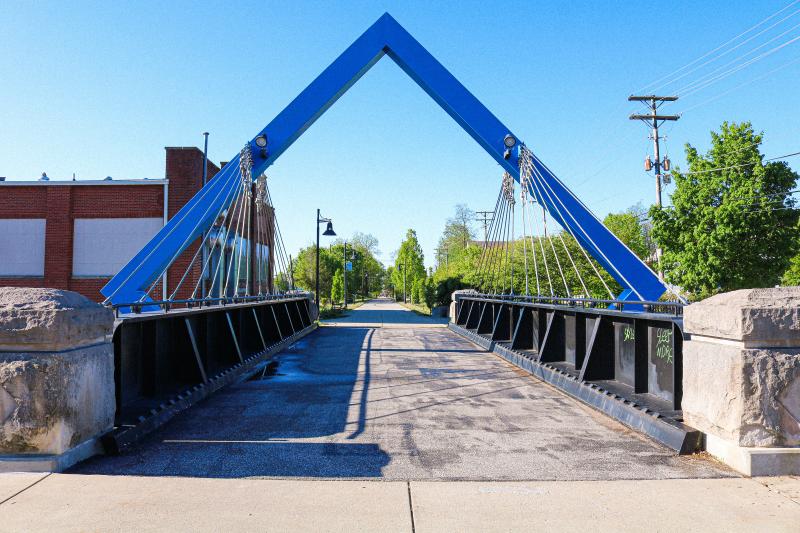 The B-Line Trail is a 3.1-mile paved trail that winds through downtown. It's a great path for walking, running, biking, and roller-skating — beyond exercise, it's also a fantastic way to explore a lot of downtown's offerings. You'll pass several restaurants & cafes, the WonderLab Museum (a great place to take kids!), art galleries & vintage stores, beautiful murals & public art, Switchyard Park & The Warehouse (also fantastic for kids), and the Bloomington Community Farmers' Market on Saturday mornings. The B-Line connects to the Bloomington Rail Trail, offering an additional two miles of gravel trail for those wishing to continue their exercise or exploration.
 
Clear Creek Trail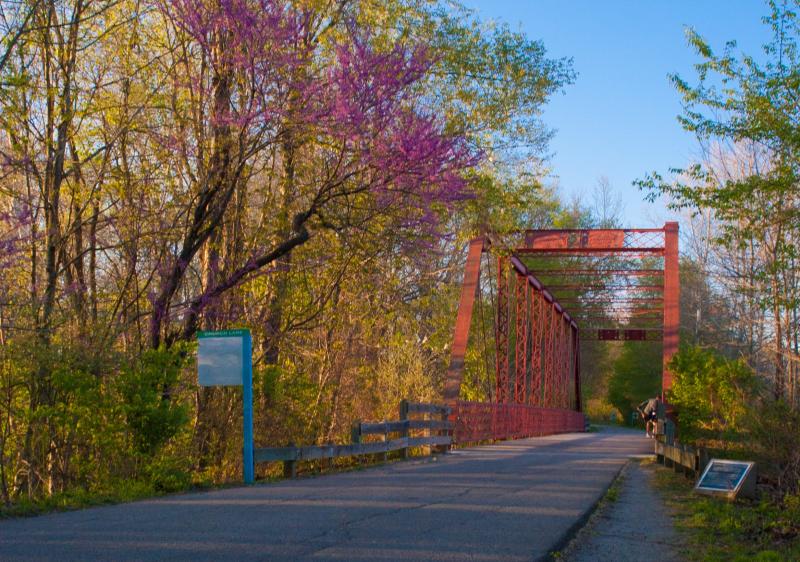 The opposite end of the Bloomington Rail Trail connects to the Clear Creek Trail, a 2.4-mile paved trail that features a restored wrought-iron bridge from 1887. This trail is much quieter than the B-Line Trail, stretching across 20.8 acres of wooded land and open grassy spaces. The trail is lined with birdhouses, which a variety of birds swoop in and out of. You'll spot giant piles of limestone through the wooded areas of the trail, and you'll also pass a tiny farm with goats, chickens, and sheep who are all quite friendly — both kids and adults enjoy a good chuckle while passing by their pen. Clear Creek Trail is less busy than the B-Line, so cyclists may enjoy this trail more as there are fewer people on foot to keep an eye out for.

Elm Heights Neighborhood Greenway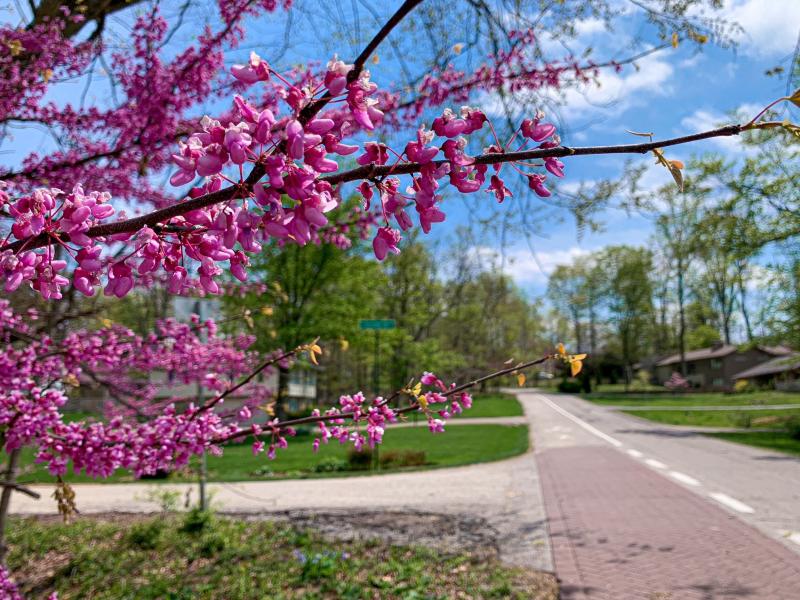 Located near Bryan Park, the Elm Heights Neighborhood Greenway is comprised of three greenway trails in the historic Elm Heights district: the Allen-Covenanter Greenway, the Highland-Hawthorne Greenway, and the Cliffton-Union Greenway. Winding through charming streets lined with the greatest concentration of architect-designed homes in the city, the Neighborhood Greenway is perfect for those who admire intricate architecture and immaculate landscaping. The charm is elevated to another level in spring, as the streets are brimming with flowering trees and lush greenery. Many homes feature breathtaking gardens that are just as whimsical as the homes themselves.
 
Indiana University Cox Arboretum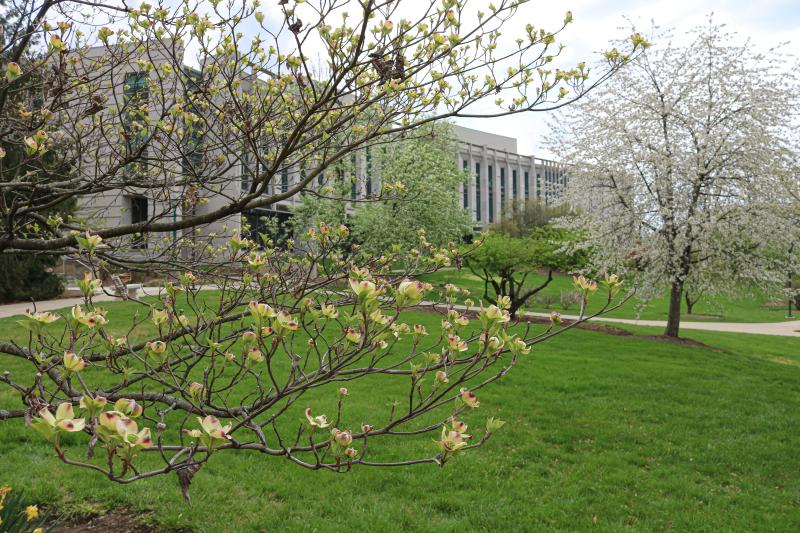 What was once the site of IU's first Memorial Stadium is now an 11-acre arboretum, home to a vast collection of trees & plant life from North America and around the world. The lush area, nestled between the Wells Library, Eskenazi Museum of Art, and Global & International Studies Building, is a great place to relax in a hammock on a warm day, enjoy a picnic, explore with kids, or stroll through as you wander around campus. During spring, you'll admire the many flowering trees, gazebo & small waterfall lined with daffodils, and picturesque pond at the valley of the arboretum. 

Leonard Springs Nature Park
Leonard Springs Nature Park consists of 95.5 acres of land, featuring caves, forestry, and wetlands. The park is also home to a rich variety of plant & animal life, a 1.1-mile trail, and a few springs. If you prefer a more rugged nature hike to an in-town paved trail, Leonard Springs would be a great spot for you to visit — it's especially friendly for families and beginner hikers due to its shorter distance.
 
Limestone Greenway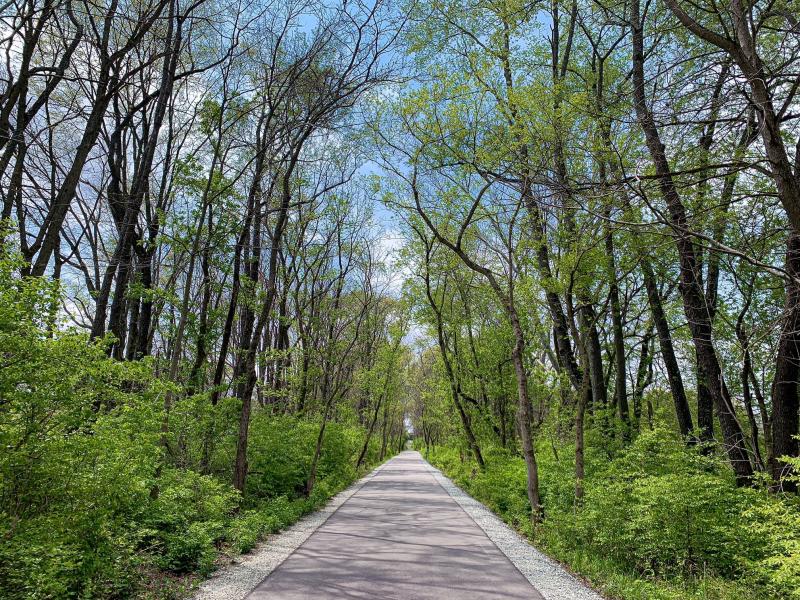 The Limestone Greenway is Bloomington's newest paved trail, offering a 1.7-mile pathway through a wooded, rural area on the south side of town. The Limestone Greenway connects to the Bloomington Rail Trail,  just a short distance from where the Rail Trail connects to the Clear Creek Trail. Avid cyclists will enjoy the ride from the B-Line to the Rail Trail to the Greenway — to make a full loop, turn around at the end of the Limestone Greenway, hop back on the Rail Trail, then shoot off onto the Clear Creek Trail. Take a short ride down Country Club Drive to get back on the B-Line, then ride back through downtown to complete your loop!
 
Lower Cascades Park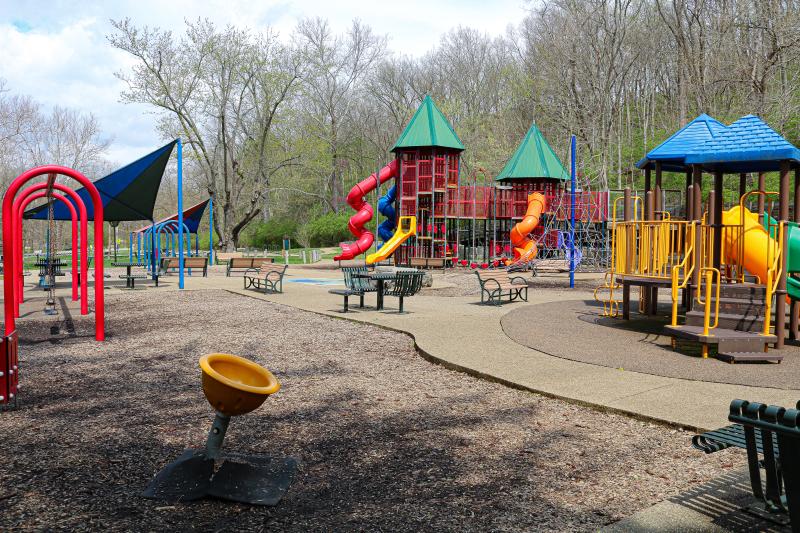 Lower Cascades Park offers a taste of Bloomington's beautiful nature without straying far from downtown. The park features a grand, fully-accessible playground with swings, slides, various climbing apparatuses, and a play castle. Lower Cascades also offers two limestone shelter houses, several picnic areas, and the 2.7-mile partially paved Cascades Trail, which runs the length of the park & beyond, passing a small waterfall along the way.
 
Porter West Preserve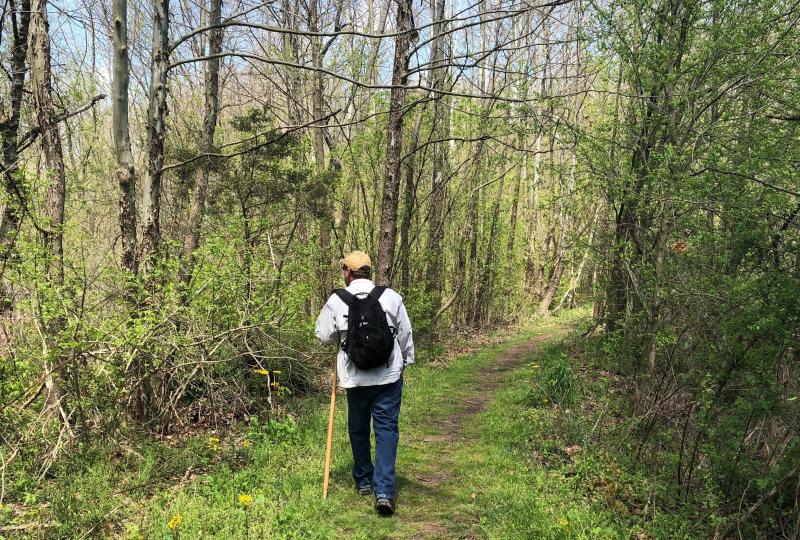 Porter West Preserve features a total of 2.6 miles of trails, with five different loops of varying distances. The preserve is known for its sinkholes, spring, historic cemetery, wildlife ponds, mature forestry, and sandstone outcrops. In the spring, the forest is carpeted with native spring wildflowers, which is a magical sight — it feels like a scene from Snow White! If you enjoy hiking, bird watching, wildlife observation, and/or nature photography, Porter West is a must during spring.
 
RCA Community Park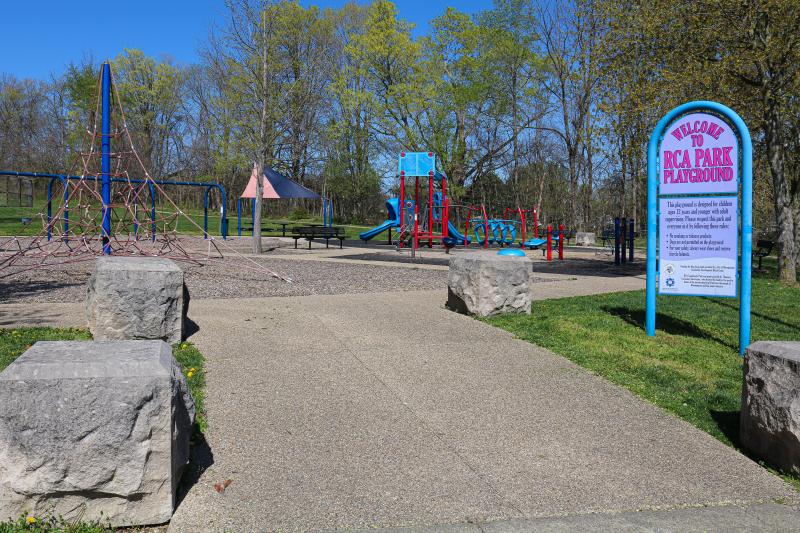 RCA Park is a hidden gem located at the back of a Bloomington neighborhood. The park offers an accessible playground, two picnic shelters, two baseball fields, two basketball courts, three tennis courts, two pickleball courts, an open playfield (great for playing catch with your dog or freeze-tag with the kids!), and two short paved trails. Both the Early History Trail and the Thomson Woods Trail are right around 0.75 miles, each winding through a wooded area with blooming redbud trees during spring.
 
Switchyard Park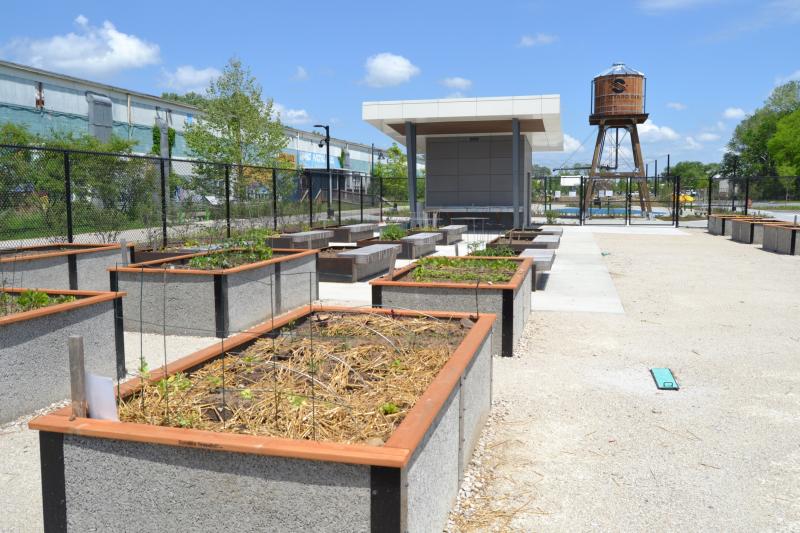 Comprised of nearly 58 acres in downtown Bloomington, Switchyard Park features a splash pad, community garden, dog park, skatepark, very large playground, pavilion, amphitheater, picnic shelter, numerous fitness stations, a shaded bosque with bistro tables & chairs, a stage & performance lawn, as well as basketball, pickleball, and bocce ball courts. One mile of the B-Line Trail runs through the park, and Food Truck Friday also happens by the splash pad and pavilion. You'll get a taste of B-Town's street art as well, as there are several murals painted on the side of The Warehouse, an indoor sports and recreation center for kids & teens across from the Switchyard skatepark & community gardens. 
 
Will Detmer Park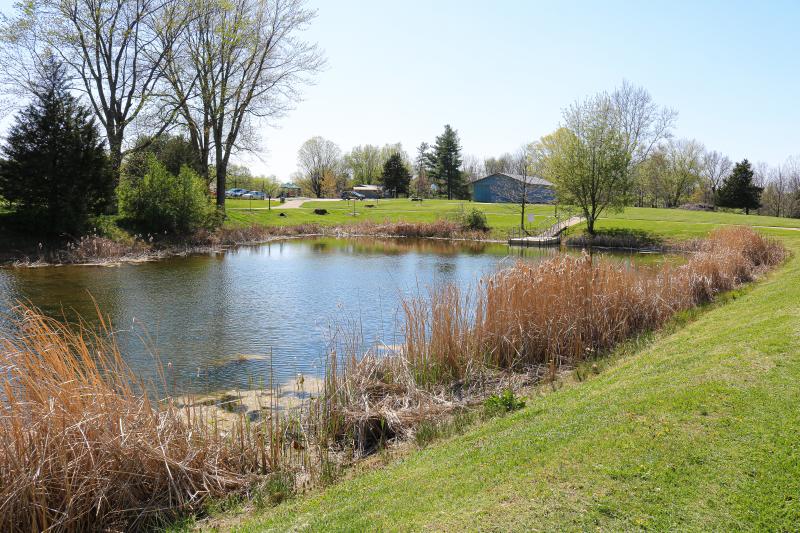 Will Detmer Park is Monroe County's newest park, which will one day connect to Karst Farm Park via an addition to the Karst Farm Greenway Trail. Will Detmer features a shelter house, playground, basketball court, bike repair station, paved trail, garden plots & raised beds available for rent, and a half-acre pond with an accessible fishing dock. 
 
Looking for more spring B-Town activities? Check out these blogs: