Staff Picks - Outdoor Fun in the Sun
Categories: Outdoors, Family Fun
It is officially summer, which means that Bloomington is busting with tons of fun things to do outside. From lounging at the pool to hiking in the woods, there are probably a hundred places to get outside and enjoy the warm temperatures and natural beauty of the area. Our staff is pretty active so I asked the team to name their favorite places to get outside, so we can all meet up and sweat together!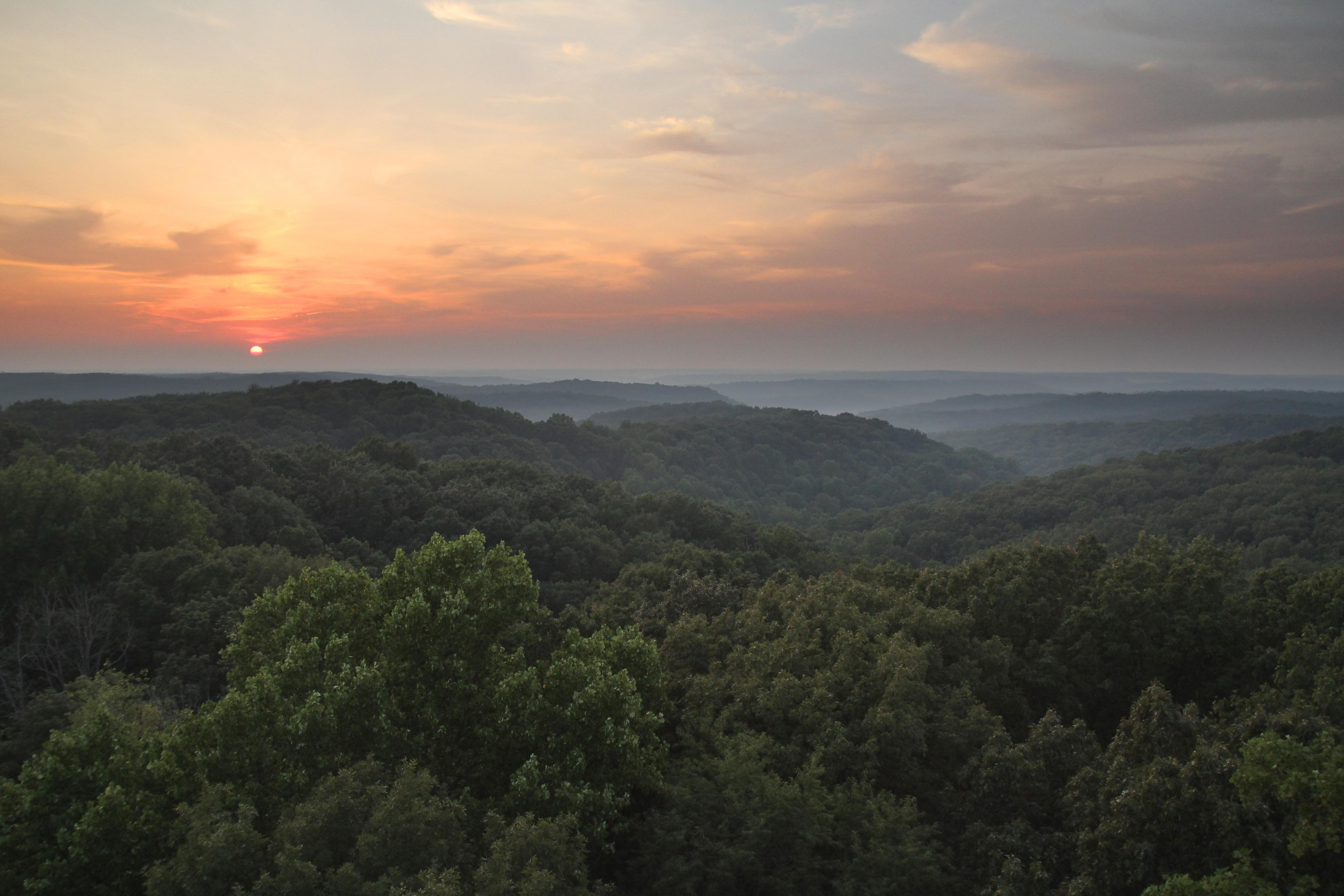 View of the Hoosier National Forest from the firetower.
Abby - I like to take my dogs and go camping in the Hoosier National Forest. It's free to camp, and you don't need a reservation. But you have to hike in and set up wherever you see fit, so don't expect to drive your car up to a pristine camping spot (or a bathroom). Enjoy the solitude and beautiful vistas!
Mike - Riddle Point Park at Lake Lemon is a somewhat more secluded beach for swimming. Plus you can go over to the nearby Port Hold for good food.
Danielle (our new designer and bike enthusiast) - If you're looking for a place to be active outdoors in summer, the Bloomington Rail Trail is my favorite for walking, running, and biking. It's completely tree-lined, so it's always cool and shaded, and never overly busy. It connects to the B-Line, so I always like to continue my bike ride downtown for breakfast!
Erin - I like going to the cut-outs at Moores Creek State Recreation Area at Monroe Lake. The local sailing association is right there so you can check out all the sailboats coming and going. It's a great place to have a picnic, get in the water, or just catch some sun. Plenty of parking and restrooms on-site.
Laura - My newest wonderful discovery is the Karst Farm Greenway on the west side of Bloomington. This is a newer walking/running/biking trail that runs from Karst Farm Park (off of Airport Road) at the south to Vernal Pike at the north, where it ties in with the new Northwest YMCA (an additional phase has begun to continue north, but is not completed). The 3.8-mile surface is asphalt, there are several hills to make it challenging at times and several areas to stop and take a break with benches created out of local limestone. The signage at each rest area is helpful to get your bearings and there are also historical facts at about the area so you can learn and burn!
Teal - Last year I had an epic weekend camping at the Paynetown State Recreation Area & boating on Monroe Lake! We camped Friday night and then met friends at the Lake Monroe Boat Rental (which was a short drive from our campsite) for a day out on a pontoon party boat. After a long day of boating it was great not to have to drive far as we headed back to our campsite for one more night. I highly recommend reserving boats & campsites as far in advance as possible to get the best options, my favorite campsites are a little farther away from everyone and are close to the edge of the water.
Julie - The splash pad at Karst Farm Park is so awesome for families, with fun water features to help you cool off and a huge playground, and it's free. I also love Cascades Park, which also has a mega playground and some fun shaded trail that lead to a waterfall. And we really enjoy Griffy Lake, with tons of trails cutting through the hills and ravines, plus kayak and canoe rental for very cheap.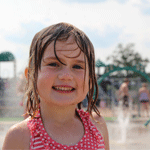 Cooling off at the Splash Pad.
 
There are a ton of great trails, nature preserves, and swimming holes worth checking out. Have some fun in the sun (or shade) this summer!